A radio weather caster warns his listeners
that tonight will be winterís coldest,
though spring lurks like a shy suitor,
paralyzed with uncertainty,
shivering on the steps
outside his loved oneís door.
†
Stars blink on like yard lights
spread across the celestial countryside.
I envision boot tracks in snow
all across the frozen universe
as I carry arms full of oak logs
between my dwindling woodpile
and back door,
each log a precious jar of canned sunshine
preserved just for this night.


© by Larry Schug.
Used here with the author's permission.
†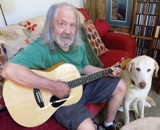 Larry Schug is retired after a working life of many different kinds of physical labor. He volunteers as a writing tutor at the College of St. Benedict and St. John's University. He's also learning to play the guitar and is branching into creating music to go along with his words. Larry has published eight books of poems and has mostly decided on what to include in a ninth collection, tentatively titled Ripples and Reflections. He lives with his wife and cat near a large tamarack bog in St. Wendel Township, Minnesota.

sacoudron:
A gorgeous snapshot of a poem! Thanks, Larry.
Posted 03/14/2023 10:30 PM
CamilleBalla:
Spring lurks like a shy suitor paralyzed with uncertainty. Really nice.
Posted 03/02/2023 12:19 PM
CamilleBalla:
spring lurks like a shy suitor paralyzed with uncertaintyreally nice!
Posted 03/02/2023 12:17 PM
Lori Levy:
Beautifully expressed. Perfect metaphors.
Posted 03/01/2023 05:23 PM
Anastasia:
"each log a precious jar of canned sunshine / preserved just for this night" - this is a fantastic phrase! Wonderful poem and images, all around!
Posted 03/01/2023 01:15 PM
paradea:
Fantastic imagery! Love this poem!
Posted 03/01/2023 12:32 PM
Larry Schug:
Darrell, if you read this, you can contactme through my website larry@larryschugpoet.com
Posted 03/01/2023 12:08 PM
Sharon Waller Knutson:
This poem is perfect for March 1. Love the imagery and alliteration. Favorite line: spring lurks like a shy suitor, paralyzed with uncertainty, shivering on the steps outside his loved ones door.
Posted 03/01/2023 11:59 AM
Arlene Gay Levine:
Wonderful, Larry! This poem is a "precious jar of canned sunshine."
Posted 03/01/2023 11:49 AM
Leslie Hodge:
Love this!
Posted 03/01/2023 11:17 AM
RonPoems:
Love the images here, especially log/sunshine.
Posted 03/01/2023 10:57 AM
dkf@rememberingjacksonvi:
How beautifully presented. I love the metaphor of the "shy suitor" and who cannot relate to the "canned sunshine"? Very nicely done!
Posted 03/01/2023 10:52 AM
cork:
Your imagery speaks loudly.
Posted 03/01/2023 09:32 AM
Darrell Arnold:
I would very much be interested in hearing "music to go along with his (your) words." I think we could go through Jayne to arrange that.
Posted 03/01/2023 08:54 AM
Cathyís Sister:
Lovely poem full of imagery from springs shy suitor to the logs jar of canned sunshine!
Posted 03/01/2023 08:42 AM
Darrell Arnold:
"Spring lurks like a shy suitor." "Each log a precious jar of canned sunshine." Brilliantly presented. It's free verse, but I like it, anyway.
Posted 03/01/2023 08:39 AM
pwax:
Wonderful first stanza! Such an original simile.
Posted 03/01/2023 08:35 AM
Larry Schug:
A self fulfilling prophecy. Though relatively warm, it's been snowing all night I should have written about crocus blooming, white throated sparrows singing and the wood stove getting a day off.
Posted 03/01/2023 07:21 AM