You may think they are
carried with it
and, sometimes, they are—
feathers askew,
somersaulting
helplessly high over the land
and, worse,
the sea.

The luckier intuitive ones,
sensing the impending
on that first March wind,
drop from the air,
lay low,
find shelter,
grip branches with
firm feet
and talons,
like vises.

When it blows furiously
through our disheveled hair,
we send out a prayer
toward its directive
that the ones blown
on a lull
return home.


© by Carol Amato.
Used here with the author's permission.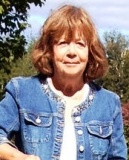 Carol Amato says poetry has allowed her to assume many lives—to date, a much-longed-for job as a waitress, a slightly mean-spirited child, an escape artist seeking to find herself, an adventurer soaring with raptors, and more. Carol's realities include being a language-learning specialist, a natural science educator, and the author of 11 books for Barron's Educational Series and Backyard Pets, Nature Activities Close to Home, published by John Wiley & Sons. Carol, who lives in Boston and Cape Cod, considers herself fortunate to have both an active imagination and enough reality to survive.
Jo:
Carried by the wind, blown on a lull, the birds we all love written about in a poem by one who knows them welland cares deeply.
Posted 03/04/2023 11:53 PM
paradea:
Love it!!
Posted 03/03/2023 12:31 PM
Lori Levy:
This poem carries me away like the birds being carried by the wind.
Posted 03/02/2023 08:09 PM
MLove:
Maybe it's just me but that last line sounds awfully lot like me praying that my little birdies who were blown away on a lull will return safely home again.
Posted 03/02/2023 06:25 PM
Sharon Waller Knutson:
Like the shutter of a camera, this poem captures the birds and the March wind the way I remember it: "feathers askew, somersaulting helplessly high over the land" and "it blows furiously through our disheveled hair."
Posted 03/02/2023 12:11 PM
Larry Schug:
The birds as both real and metaphorical beings is what makes this poem what a poem is supposed to be.
Posted 03/02/2023 07:59 AM
Joan Luther:
The ones blow on a lull.lovely phrase, giving hope for these fragile beauties
Posted 03/02/2023 07:38 AM