Pink motels
and sweet tea.
Flamingos on the lawn.
Produce stands,
old banjos—
multi-color dawns.

Country homes
with rope swings.
Mullet jumpin' high.
"Cracker" jokes,
tall live oaks.
Tasty key lime pie.

Sunshine
on the water.
Palm fronds on the street.
Spanish moss.
Games of toss.
Soup with gator meat.

Florida …
I love you—
hot though you may be.
Never change
or re-arrange
your kingdom by the sea.


This poem first appeared in All Poetry (April 2019).
Used here with permission.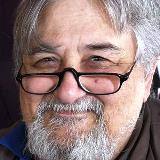 J. S. Lamb is a retired journalist in New Port Richey, Florida. Originally from Pennsylvania, he visited Florida in 1971 and never left. A Vietnam veteran, Jim is the author of two books, with a third in the works. He continues to publish freelance articles and enjoys playing the guitar. Learn more about Jim at http://www.jslstories.com/.
Lori Levy:
Very visual. I can see Florida.
Posted 03/03/2023 02:14 PM
paradea:
Old Florida!! I remember it...better now!!
Posted 03/03/2023 12:29 PM
cork:
What are "Cracker" jokes?
Posted 03/03/2023 12:08 PM
Kelly Scott:
What a delightful little poem to wake up to! I'm a "Southern Belle" now from New England. I've been here 28 years. I would vacation to Florida as a young girl to visit grandparents. It brought back memories of how I saw Florida but most of all the one that I went back home with spanish moss for "show and tell" for school.
Posted 03/03/2023 09:43 AM
Larry Schug:
Certainly not the Carl Hiassen version of Florida! The best thing about Florida? Spring training! Nice poem.
Posted 03/03/2023 08:15 AM
PmReid:
Marvelous imagery. I lived in FLA for 5 years in Citrus County and this poem reminded me of the pastoral life by the lake.
Posted 03/03/2023 07:15 AM