Our son, Joe called it the big dog wind
the one that chases you down
like a playful Irish Setter                                                                                                                                                                                                                  
as you walk along,
jumping on you when you
least expect it.
Joe called it the big dog wind,
that sudden blast of air from the sky
strong enough to push you down
on the sidewalk
forcing the breath out of you.
Breath of  mountains,
he is strong beyond
what he realizes.
Even his howl makes it hard to walk
hard even to stand up straight.
Joe called it a big dog wind.
 
Today, recalling that,
when I felt such a wind
bearing down on me,
I cried out "Heel, wind, heel!"
 
Along the path, as I walked by
bare birch branches rattled
in a laughing response
to my exhortation of the wind.
Wind himself seemed to take
no heed of me, although I thought
I heard a chuckle within the howl,
as he continued on his way.


This poem first appeared in Verse Virtual (March, 2021).
Used here with permission.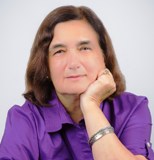 Joan Leotta lives near the coast in North Carolina. When she is not performing folktales or at her computer composing poems and stories, you can find her at the beach collecting shells and admiring the sea. Her latest book is Feathers on Stone. Learn more about Joan at www.joanleotta.wordpress.com.
joan:
Thank you all for your condolences and for reading and appreciating the poem.
Posted 03/12/2023 03:48 PM
paradea:
This is a beautiful poem! I am so sorry you lost your son those years ago. I,too, know the loss of a child. Hugs, today for the memories that come alive in this poem.
Posted 03/05/2023 06:43 PM
Anastasia:
This is an excellent name for that wind, and a poem that captures it perfectly! My condolences on the loss of Joe; he sounds like a son anyone would be proud of. Blessings on his memory, and blessings on you and all who love him.
Posted 03/04/2023 12:59 PM
Lori Levy:
Love this depiction of the "big dog wind." Very sorry for the loss of your son.
Posted 03/04/2023 12:46 PM
IngridBruck:
Neat poem about the wind, perfect accompaniment for this wind outside shaking the trees.
Posted 03/04/2023 12:22 PM
Sharon Waller Knutson:
I fell in love with this powerful poignant poem about a boy, a dog and the March wind. I was hooked from the title, The Season of the Big Dog Wind, What a wonderful tribute to your son, Joan. My favorite line is: "Our son, Joe called it the big dog wind the one that chases you down like a playful Irish Setter..."
Posted 03/04/2023 10:50 AM
Wilda Morris:
Delightful poem! That big dog wind came our way recently. I'm so sorry for the loss of your son. I'm glad that memories bring smiles to your face.
Posted 03/04/2023 10:00 AM
Angela Hoffman:
I sense there so much more in the big dog wind than meets the eye. I will remember this when I feel the push of a strong wind. A lovely poem Joan.
Posted 03/04/2023 08:31 AM
Larry Schug:
First, I offer condolences on your unimaginable loss. I hope that writing poems gives you some kind of comfort. Such a gift, shared, brings relief to us all. Thank you, Joan.
Posted 03/04/2023 07:50 AM
JanetRuth:
It made me feel like I was being pushed along! A beautiful tribute indeed<3
Posted 03/04/2023 07:25 AM
Joan Luther:
Thank you for sharing this: a wonderful tribute to your son
Posted 03/04/2023 06:46 AM
joan:
Our son ,Joe, died while a student at a college in the Shenandoah Mountains where the wind was very strong. Every March the gusts of wind that rush through, bring back memories of our dear boy--so , although he disliked the Big Dog Winds, they now bring a smile to my lips, reminding me of him.
Posted 03/04/2023 06:41 AM