Surprise is the rule when spring makes promises
and promises are made to break.
†
Birds call to their mates, fly to the feeder,
sing loud while the air is warm.
Daffodils, bursts of sun on the ground,
took a beating already in days of pounding rain.
Bradford pear blooms beam like a bride in white,
weeping cherries smile pink with todayís first flower.
Forsythia already struts yellow bells, wild on tangled spires.
†
The lame mule stands warm and comfy in his lean to shed.
Tonightís deep freeze and snow will change it all.


© by Mary Ricketson.
Used here with the authorís permission.
†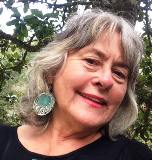 Mary Ricketson lives in Murphy, North Carolina, where she is a mental health counselor and a blueberry farmer. With the Blue Ridge mountains that surround her often inspiring her words, the healing power of nature is a frequent theme. Mary is the author of seven collections.
maryricketson311@hotmail:
Thank you everyone.
Posted 03/16/2023 10:28 AM
Anastasia:
Spring comes in fits and starts, and then one day, winter is definitely gone!
Posted 03/16/2023 12:14 AM
Lori Levy:
Great opening line and beautiful images.
Posted 03/15/2023 05:35 PM
Darrell Arnold:
Out here in ranching country, according to the late cowboy poet Baxter Black, we have four seasons -- summer, fall, winter, and mud.
Posted 03/15/2023 01:01 PM
mail@schoolbusmart.com:
Hi Mary. Yes, promises may get broken, yet momentary beauty can still linger at least in our minds and hearts well past the breaking point of the promise, and the old mule does tend to get a little cold with the changing times as well as weather. Good poem. All my best, Randy Mazie
Posted 03/15/2023 10:26 AM
michael escoubas:
As mere human beings we somehow have the idea that we can "control" almost anything. Almost, that is, anything but the natural world. Nicely done, Mary, and so near the truth.
Posted 03/15/2023 10:17 AM
Jancan:
This poem describes perfecty what's happening in north Mississippi, where I live.
Posted 03/15/2023 09:52 AM
cork:
I can feel the change coming.
Posted 03/15/2023 09:18 AM
Joan Luther:
Daffodils, bursts of sun.. so true! Nice imagery
Posted 03/15/2023 09:00 AM
Larry Schug:
The last line, like waking up from a beautiful dream to find snow falling outside the window.
Posted 03/15/2023 07:39 AM
Sharon Waller Knutson:
Love the imagery and metaphors: Bradford pear blooms beam like a bride in white, weeping cherries smile pink with todays first flower. Forsythia already struts yellow bells, wild on tangled spires.
Posted 03/15/2023 06:46 AM