For every parcel I stoop down to seize
I lose some other off my arms and knees,
And the whole pile is slipping, bottles, buns--
Extremes too hard to comprehend at once,
Yet nothing I should care to leave behind.
With all I have to hold with hand and mind
And heart, if need be, I will do my best
To keep their building balanced at my breast.
I crouch down to prevent them as they fall;
Then sit down in the middle of them all.
I had to drop the armful in the road
And try to stack them in a better load.


This poem is in the public domain.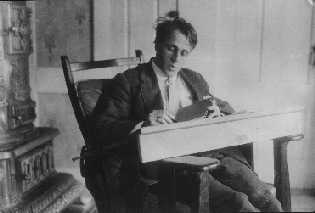 Robert Frost (1874-1963) was born in San Francisco, but moved to Massachusetts with his family after his father's death in 1885 and, ultimately, lived in a number of homes and farms throughout New England. Though he attended several prestigious colleges and universities, he never graduated from any of them. Nonetheless, Robert spent most of his adult life teaching, receiving more than forty honorary degrees, along with four Pulitzer Prizes. Robert's interest in poetry started early; he published his first poem while in high school, sold his first poem at twenty, and by the age of forty, was one of America's best known and best loved poets. Rural life is a consistent theme in Robert's poetry, as is simplistic language that is pleasing to the ear; he felt strongly that poetry was best appreciated when read aloud.
paradea:
Love Robert Frost. Never read this one before.
Posted 03/16/2023 06:25 PM
michael escoubas:
Talk about a near genius when it comes to rhyme . . . Frost, one of the best.
Posted 03/16/2023 03:25 PM
Lori Levy:
I love Robert Frost's poems.
Posted 03/16/2023 01:39 PM
CamilleBalla:
Darrell, I always like to hear others interpretations of my poems. Like you, I hear back things that I didnt know I was saying and so I am sometimes nourished or inspired by their feedback.
Posted 03/16/2023 11:39 AM
joecot:
I love the surprising rhyme of "buns" with "once" written with a wink that this poem is to be taken lightly...
Posted 03/16/2023 11:23 AM
mail@schoolbusmart.com:
That was me he was writing about as I sit in the middle of my load---with my unreasonable expectations of what I could tote down that road.
Posted 03/16/2023 11:16 AM
KevinArnold:
Feels so contemporary.
Posted 03/16/2023 10:40 AM
MLove:
I love Robert Frost but somehow have never come across this poem. So reminds me of my Dad who used to call that a "lazy man's load". (He would say that of himself when he tried to carry too much to save a trip)
Posted 03/16/2023 09:23 AM
Jancan:
This poem is a perfect example of one that can be taken more than one way. Good choice for the day!
Posted 03/16/2023 09:13 AM
cork:
Logistics!
Posted 03/16/2023 09:09 AM
Darrell Arnold:
I've had people read some my poetry and come away with grand interpretations of what I meant. And all I meant was what I wrote in the poem. No other levels. Oh well, as long as they enjoy it, it's okay with me.
Posted 03/16/2023 08:24 AM
Larry Schug:
And try to unlock and open a car door at the same time. And it's snowing. And your stocking cap is falling over your eyes. And you drop your keys. Again. I like how Frost veers off into what's held in mind and heart.
Posted 03/16/2023 07:46 AM