May God grant you always
a sunbeam to warm you,
a moonbeam to charm you,
a sheltering angel
so nothing can harm you,
laughter to cheer you,
faithful friends near you
and, whenever you pray,
heaven to hear you.

This poem is in the public domain.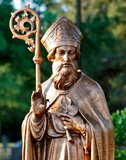 Saint Patrick (born sometime in the late 4th century – believed to have died on March 17, 460 A.D.), was actually born in Britain. Taken prisoner by a group of Irish raiders who attacked his family's estate when he was 16, Patrick was transported to Ireland, where he spent six years in captivity, working as a shepherd and spending most of his time outdoors and alone. When he finally managed to escape, Patrick, inspired by a dream, began intensive religious training and eventually became a priest. Considered the patron saint of Ireland, he was never actually canonized by the Catholic Church.
Jo:
Beautiful !
Posted 03/17/2023 11:39 PM
Tracers645:
Beautiful! Thank you for posting.
Posted 03/17/2023 05:54 PM
Wilda Morris:
Beautiful!
Posted 03/17/2023 10:16 AM
Jancan:
This concise, powerful, deeply spiritual poem touched my heart!
Posted 03/17/2023 10:00 AM
michael escoubas:
Great prayer to memorize. I like his story moving from captivity to genuine spiritual freedom. Makes you wonder "who" was actually "in" prison? Certainly not the mature Patrick.
Posted 03/17/2023 09:19 AM
cork:
Slainte!
Posted 03/17/2023 09:09 AM