"Be aware of the small things in the world, not necessarily the monumental things. The small things add up to a monumental reality."
                                                                                                                                                                                              —Yusef Komunyakaa, American poet

I tell you, the life of a skeptic is hard.

No softening of edges,
no gossamer wings to flap away the buzzing in my ears.
Stars taunt, tides ebb
the physical world insists on recognition,
but I am no physicist, no mathematician,
cannot reliably compute the way.
Nevertheless, small things
have made themselves known,
the blink of an eye,
your cold night feet pressing up against me,
the way you take my hand when we cross a busy street.


From Paradise Reexamined (Kelsay Books, 2023).
Used here with permission.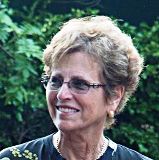 Anita S. Pulier, after retiring from her law practice in Brooklyn, happily traded-in legal writing for poetry. She's the author of multiple collections, the most recent being Paradise Reexamined, forthcoming from Kelsay Books next year. Anita's poems have appeared in numerous print and online journals and in the anthologies Grabbing the Apple, the poetry edition of Legal Studies Forum, and Aunt Poems by The Emma Press. Anita and her husband split their time between the Upper West Side of New York, and Los Angeles. Learn more about her at http://psymeet.com/anitaspulier/main/index.php.
paradea:
Lovely!!
Posted 03/20/2023 06:58 PM
Lori Levy:
Great beginning and ending (and middle!). Congratulations on your book!
Posted 03/19/2023 11:44 PM
ghctenmile@earthlink.net:
Thanks so much for this poem--what an opening line! Congratulations.
Posted 03/19/2023 04:39 PM
KevinArnold:
Ah, they're all love poems.
Posted 03/19/2023 12:46 PM
Jo:
Congratulations on your new book. I enjoyed this poem very much. It reminds me of a favorite haiku. First violets Its all about Staying small Haiku by Peggy Willis Lyles
Posted 03/19/2023 12:25 PM
KinVT:
Very nice. Poetry success. Making the reader (me) feel the stronger emotion of the beginning of the poem & then flipping that in the blink of an eye to the softer human emotions of the latter lines. Well done! & Congratulations on your upcoming book launch!
Posted 03/19/2023 10:56 AM
cork:
I love those small things and will stay alert to them as my life continues like the sound of espresso brewing.
Posted 03/19/2023 10:54 AM
michael escoubas:
Ah Yes! How we appreciate such things, especially in these our later years. Thank you, Anita.
Posted 03/19/2023 09:02 AM