the calm
in the gentle curves
of a lake


© by David M. Tookey.
Used here with the author's permission.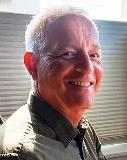 David M. Tookey is a retired elementary school teacher who lives in Seattle, Washington. A bicycle is his main mode of transport around town; David says he finds he can tinker with poems in his head as he rides. He also enjoys creating and sharing organic baked goods, taking long walks with family, reading, and creating quiet space in a big city.
Anastasia:
Lovely! Thank you!
Posted 04/09/2023 01:38 PM
michael escoubas:
Fellin' it, David. Thank you!
Posted 04/06/2023 03:06 PM
Lori Levy:
Soothing.
Posted 04/06/2023 02:14 PM
RonpoemsRonpoe:
So natural. Thanks
Posted 04/06/2023 11:26 AM
cork:
Nice focus.
Posted 04/06/2023 09:13 AM