Iíll place jasmine blossoms
Upon my eyelids ó
The new blooms,
Unopened,
Pink as first light
At sunrise
And the white ones,
Not cold like snow,
Or pale as clouds,
But blushing warm,
Their scent like †
Promises kept,
Like gentle fingers
Caressing ó
To ease me past
Phylís lemon pie
Into my well deserved
Nap.


© by Robert Walton.
Used here with the authorís permission.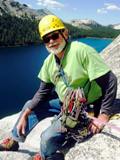 Robert Walton is a retired middle school teacher and a lifelong rock climber with many ascents in the Sierras and Pinnacles National Park. His publishing credits include works of science fiction, fantasy, and poetry. Robert's historical novel, Dawn Drums, won the Tony Hillerman Prize for best fiction in the 2014 New Mexico Book Awards. Most recently, his book, Joaquin's Gold, was published as a paperback and a Kindle eBook. It offers fictional adventures about the famous California bandit, Joaquin Murrieta. Learn more about Robert at http://chaosgatebook.wordpress.com/.
waldo47:
A belated thanks to you all for your comments!
Posted 05/06/2023 03:21 PM
Anastasia:
Definitely a feast Sunday!
Posted 04/09/2023 01:42 PM
Lori Levy:
Beautiful images. Sensual.
Posted 04/08/2023 03:31 PM
Jancan:
An appealing blend of lovely descriptions and wit. Love the similes!
Posted 04/08/2023 10:25 AM
Sharon Waller Knutson:
The imagery is exquisite in this witty visual poem. Favorite lines: To ease me past Phyls lemon pie Into my well deserved nap.
Posted 04/08/2023 10:08 AM
cork:
This poem could not end with a better single word.
Posted 04/08/2023 09:12 AM