We didn't need that trip to Disney World;
we can laugh anywhere—
even in an Eckerd Drug Store
in the vitamin aisle
reading supplement labels.  
I don't remember which description
triggered the giggles;
was it Glucosamine Chondroitin,  
or Ginko Biloba?
Maybe not the labels,
but a memory from ten years before
when eye creams dominated our sister-talk.
You claimed Revlon diminished fine lines
better than Clinique
with its iridescent pearls and sea green glow.   

We've laughed our way through the perils
of hair removers, dyes, and magnification mirrors.  
Even Alan King's monologue at Kutsher's Hotel
was no match for the humor we saw
in Lobby Bingo and the pitch black Starlight Lounge.  

Remember how our mother buried forks
in potted plants to kosher them,
how she pinned camphor bags to our clothes
to ward off disease, how I identified your boyfriends
by their resemblance to fruits and vegetables?
(Was your husband the cucumber?)

Your matinee idols like Eddie Fisher and Sinatra
became mine,
though the Roller Derby was yours alone.
I may not cheer for the Mets or watch hockey on TV,
but I will always seek out your advice.  
What I need to know now is—
Does Glucosamine really work
and how long will these hot flashes last?


© by Norma Ketzis Bernstock.
Used with the author's permission.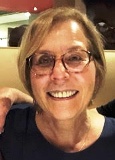 Norma Ketzis Bernstock, though raised in a suburb of New York City, now enjoys life as an artist and poet in the beauty of the Delaware Water Gap National Recreation Area. Retired after 34 years in education, mostly as a School Media Specialist, her writing desk overlooks dense foliage and one of her greatest joys is observing the wildlife sauntering past her window when they don't know they're being watched. Norma is the author of one chapbook from Big Table Publishing, Don't Write a Poem About Me After I'm Dead, and is hard at work on another collection.
Denise:
I smiled with envy at the warm friendship that you two obviously share. Thank you for letting us enter your world to see love between siblings.
Posted 04/12/2023 11:17 AM
Jancan:
An appealing blend of poignancy, wit, and vivid descriptions
Posted 04/10/2023 10:29 PM
Lori Levy:
I'm always laughing with my siblings, too. Great poem!
Posted 04/10/2023 12:54 PM
Anastasia:
What a fun poem! It's good to share the little things and a laugh!
Posted 04/10/2023 12:05 PM
Michael:
Love laughing with my brothers in these our septuagenarian years. Somehow, life is even more carefree now than it used to be! Especially, when we're together going through the drugstore medicine shelves laughing at the labels, how more necessary than ever!! Nicely done, Norma.
Posted 04/10/2023 09:13 AM