High up in the Blue Ridge,
when your hair has grayed,
you catch the scent again,
lilac, its certain purple plumes,
 
and there you are in Flint, age twelve,  
with the pixie haircut like Twiggy's.
You lie on top of the covers
as perfume creeps across your pillow,
even on windless nights,
even with the yellow curtains drawn.
You might climb out your window
onto the first story roof
to touch the top of the bush,
violet on a bright night.
 
Plant a lilac in the Georgia mountains
on the lake side of your cottage    
where it might be cool enough
to thrive. Plant it in your father's name
next to the goldfinch feeder,
leave un-pruned for profuse flowering.
Bring long branches, blossom-laden
into your kitchen. Keep them
in your mother's tallest milk glass vase.


From No Such Thing as Distance (Terrapin, 2018).
Used here with permission.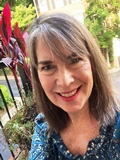 Karen Paul Holmes is a freelance business writer, poet, and writing workshop leader who splits her time between Atlanta and a cottage in the Blue Ridge Mountains. Author of two poetry collections, Karen hosts the Side Door Poets in Atlanta and a monthly virtual open mic for the North Carolina Writers' Network. She enjoys classical music, theater (especially comedies), Ikebana, ballroom and contra dancing. Learn more about Karen at https://www.karenpaulholmes.com/.
paradea:
Love lilac bushes!! They remind me of childhood nights like Karen describes here! Great poem!!
Posted 06/20/2023 10:36 AM
Wilda Morris:
Lovely! I grew up in my grandparents home. There were two lilac bushes in the back yard. I still cannot resist pushing my face into a lilac bus and inhaling deeply!
Posted 05/07/2023 06:43 PM
karenpaulholmes:
Thank you to all of you for such lovely comments!
Posted 05/07/2023 05:55 PM
Anastasia:
I have so many happy associations with the scent of lilacs! Thank you for the reminder, Karen!
Posted 05/07/2023 03:45 PM
Lori Levy:
Great details, very visual.
Posted 05/07/2023 11:50 AM
Sharon Waller Knutson:
I love this uplifting visual poem. The tantalizing title, Lilacs Easily Outlive the One Who Planted Them, drew me right in. I can see and smell the lilacs. I love the perfume of lilacs and lilac is one of my favorite colors. But I live in the Arizona desert and if I planted lilacs in my front yard the cows and wildlife would eat them if triple digit temperatures didn't kill them first. Thanks for letting me enjoy lilacs through this poem, Karen.
Posted 05/07/2023 11:12 AM
Shoshauna Shy:
Beautiful poem, and I like how the title does some of the heavy lifting.
Posted 05/07/2023 11:09 AM
cork:
Our lilac bush here in Wyoming has never bloomed, but it is something to hope for.
Posted 05/07/2023 10:08 AM
David:
Beautiful and poignant.
Posted 05/07/2023 09:39 AM
Gilbert Allen:
Yes, the sense of smell can evoke memories powerfully. I enjoyed reading this poem.
Posted 05/07/2023 09:05 AM
Joan Luther:
Sweet scents of lilacsan absolute must! Just moved to NC so will see how feasible they are here.lovely poem!
Posted 05/07/2023 08:37 AM
Jancan:
Lovely, vividly descriptive, appealing piece!
Posted 05/07/2023 08:37 AM
Larry Schug:
The perfect touch of nostalgia without becoming syrupy. I very much admire the last stanza.
Posted 05/07/2023 07:35 AM