She knew there weren't a lot of choices.
A teacher's job might be the worst—
those runny noses, whining voices.
She thought she might become a nurse,
give polio vaccines. But blood
spurting, and she'd be on the floor.
Secretarial work? A dud,
all that paperwork a bore.
A stewardess lived a high life,
but she was sure she'd grow too tall.
Soon enough she was a wife
and mother, with no career at all.

She taught her daughters study skills,
mysteries of boys and birds and bees.
She nursed their wounds and all their ills,
from chickenpox to feared disease.
She wrote the letters, paid the bills,
filed receipts and guarantees.
She passed out snacks and drink refills
when her small crew flew overseas.

She never wrote a resumé,
and her précis includes no pay.
But tabulate another way:
her family prizes her each day.


© by Barbara Lydecker Crane.
Used with the author's permission.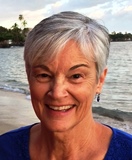 Barbara Lydecker Crane is a Boston-based poet and artist who likes to travel when the world permits. She loves grandchildren, crafts, watching the Red Sox on TV, and laughing with her husband of 50+ years. Barbara's is the author of three books: Zero Gravitas (White Violet Press), Alphabetricks (Daffydowndilly Press), and BackWords Logic (Local Gems Press). A new collection, You Will Remember Me, is forthcoming.

Anastasia:
This is such a good description of full-time parenting, and someone who handled it well! That's far more than I could take on - I'll stick with my day job!
Posted 05/14/2023 10:47 PM
Darrell Arnold:
I love this. You could easily have written this, unrhymed, and gotten away with it, but you didn't. You put in the time and work to make it a real poem about what I believe really is a career, that being full-time motherhood. Very nicely accomplished.
Posted 05/13/2023 05:28 PM
Lori Levy:
Well done, perfect ending.
Posted 05/13/2023 01:27 PM
KevinArnold:
Ah, honoring a 50-year marriage . . .
Posted 05/13/2023 10:35 AM
Jancan:
I thoroughly enjoyed this poem about the utmost "career"--that of the stay-at-home-mother. Realistic, descriptive, skillfully written, inspiring piece
Posted 05/13/2023 09:15 AM
Wilda Morris:
I fine poem that trusts the reader to link what might have been with what was. Very well written!
Posted 05/13/2023 08:32 AM