In the restless spring of my twenties,
Mom boarded an overnight train bound
for my latest address, resolved to help
me settle. She tossed off her mules, puffed
on her Pall Malls, and got to work.
Mom knew how to keep house: sprayed
each room with Lysol, scrubbed floors,
shopped at the local five-and-dime
for a wind chime strung with sea shells,
a welcome mat branded with a pelican,
placed them at my front door.  Mom was tired
of tracking my moves, tired of replacing
each entry in her book with new cities,
zip codes, tired of trying to ground my shaky roots.
After weeks of wear, we called a truce,
perhaps lulled by the sun's insistent warmth,
the Gulf's hypnotic pull.  We linked arms,
curled our toes in the forgiving sand,
the daughter who strayed, the mother who stayed
inside firm, familiar borders.  After she died
that winter, this is what I kept:  a snapshot,
unlike all others -- Mom, her salon-proof hair
unbound, whipped by the wind, an enduring
smile framed by untouched lips, all this, all this,
under a wide and bountiful sky.


This poem first appeared in the Mojave River Review (2014).
Used here with permission.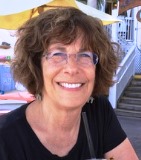 Irene Fick was born in Brooklyn, raised in suburban Chicago, and has lived in Clearwater Beach, Florida and San Francisco, but, for the past 12 years, she has lived with her husband, Ed, in Lewes, Delaware, where she is active in two writers' groups and participates in readings, workshops, free writes, and a weekly poetry critique group. Irene's background is in newspaper and magazine journalism and public affairs; since retirement, she has focused primarily on poetry and flash nonfiction and her work has appeared in a variety of publications.
clearskye:
"She tossed off her mules, puffed on her Pall Malls, and got to work." I can see her so clearly! Loved this image: "Mom, her salon-proof hair unbound, whipped by the wind" Thank you, Irene
Posted 09/05/2023 05:41 PM
clearskye:
" She tossed off her mules, puffed on her Pall Malls, and got to work." I feel like I can see her! Loved these lines: Mom, her salon-proof hair unbound, whipped by the wind Thank you, Irene! --Amrita
Posted 09/05/2023 05:40 PM
Anastasia:
This is a beautiful poem, both in words and images, and so honest in its emotions. Thank you for sharing it, Irene!
Posted 05/14/2023 10:48 PM
irenepoet:
Thank you so much to all those who took the time to comment on my poem. It is much appreciated! Irene
Posted 05/14/2023 08:05 PM
Shoshauna Shy:
Beautiful poem for today!
Posted 05/14/2023 07:00 PM
Sharon Waller Knutson:
What a wonderful mother's day gift for all of us to read this powerful poignant poem as a reminder of our relationships with our mothers. Loved this line: She tossed off her mules, puffed on her Pall Malls, and got to work.
Posted 05/14/2023 05:11 PM
Lori Levy:
Beautiful poem. Love the contrast between mother and daughter. Poignant ending.
Posted 05/14/2023 04:23 PM
liz dolan:
Irene, I love the title, the internal rhyme, the sentiment. See you soon. Liz
Posted 05/14/2023 03:24 PM
Adriana:
A lovely, touching poem about the "daughter who strayed, the mother who stayed." I particularly like the beginning "In the restless spring of my twenties," and the ending "all this, all this/under a wide and boundless sky".
Posted 05/14/2023 12:52 PM
David:
Beautiful. Love the details, salon-proof hair unbound is not only visual but says so much about the mother and daughter.
Posted 05/14/2023 10:58 AM
Jo:
Happy Mother's Day, Irene. This is an all-time favorite. I can really see your mom. Love your language.
Posted 05/14/2023 10:43 AM
KevinArnold:
Irene, good poem. I, too, was born in Brooklyn and raised in suburban Chicago: Barrington, but my move to the west coast stuck. Happy Mother's Day.
Posted 05/14/2023 10:11 AM
CamilleBalla:
So well crafted and touching. I can see mom puffing on her Pall Malls, tossing off her muless.
Posted 05/14/2023 10:02 AM
Michael:
Lovely, Irene . . . I sense a bit of tension between you two, but in the end, arms and hearts found their rightful place in a surround-sound of love.
Posted 05/14/2023 10:01 AM
Larry Schug:
Mom! We only get.one
Posted 05/14/2023 08:54 AM
Jancan:
I really enjoyed this reflective, moving poem--especially "the daughter who strayed, the mother who stayed."
Posted 05/14/2023 08:54 AM