A grass blade bending
like lampposts over highways ó
the weight of an ant


© by Jana Kalina.
Used here with the authorís permission.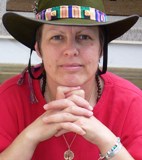 Jana Kalina lives with her husband on Vancouver Island. During her lifetime, she has lived extensively on three of the planet's seven continents and, today, her pursuits can be distilled down to three things: Buddhism, bonsai cultivation and, of course, poetry--especially haiku.
†
†
Anastasia:
And the ant thinking, "I wonder if this is going to hold?" Wonderful and concise poem!
Posted 05/15/2023 08:38 PM
judithheron:
Superb in its brevity ~ like a long breath
Posted 05/15/2023 05:41 PM
Lori Levy:
Great image.
Posted 05/15/2023 03:27 PM
Lyric:
Love the vivid imagery!
Posted 05/15/2023 11:04 AM
DavidTookey:
Wonderful!
Posted 05/15/2023 10:28 AM
Wilda Morris:
Fun!
Posted 05/15/2023 09:51 AM
Jancan:
Seventeen syllables put to good use!
Posted 05/15/2023 09:05 AM
David:
Nice image and humor. Love the title!
Posted 05/15/2023 08:21 AM
Larry Schug:
Good eye! Great haiku!
Posted 05/15/2023 07:29 AM
PmReid:
Reminiscent of Issa. Love haiku.
Posted 05/15/2023 06:42 AM