Pink, small, and punctual,
Aromatic, low,
Covert in April,
Candid in May,

Dear to the moss,
Known by the knoll,
Next to the robin
In every human soul.

Bold little beauty,
Bedecked with thee,
Nature forswears
Antiquity.


This poem is in the public domain.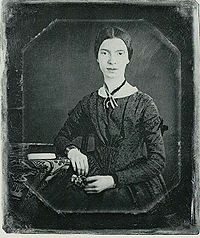 Emily Dickinson (1830 – 1886) is considered a major American poet, though she was not accorded this honor until well after her death, when her younger sister discovered and began to share the enormous body of work that Emily left behind. A recluse who almost always wore white, Emily was born to a prominent Massachusetts family and spent the bulk of her life inside her home in Amherst. Only seven of her poems were published during her lifetime, and virtually none were published as originally written until the mid 1950s. (Emily's odd punctuation, capitalization, and formatting did not meet with standard publishing  "approval" for earlier editions.)  There is a whimsical nature to many of her poems, although the subject of death was the most frequent recurring theme.
Lyric:
I love that a flower can be punctual :)
Posted 05/16/2023 03:18 PM
Anastasia:
Dickinson is a perfect start to the day! Thank you, Jayne!
Posted 05/16/2023 02:09 PM
CamilleBalla:
Thank you for this, Jayne. Punctual - in its own time - Nature renews. It appears from reading the above that Emily may have opened the door for us to use our own flair!
Posted 05/16/2023 12:13 PM
ghctenmile@earthlink.net:
Nobody does it better than Emily... Thanks, Jayne.
Posted 05/16/2023 11:28 AM
Gilbert Allen:
That final stanza is thought-provoking.
Posted 05/16/2023 10:10 AM
cork:
I believe she has influenced today's poets. I am nobody.
Posted 05/16/2023 09:38 AM
David:
Love the idea of referring to flowers as punctual. Thanks for sharing this with us.
Posted 05/16/2023 08:46 AM
Darrell Arnold:
I wonder if Emily ever cared whether her poetry would become well-known and popular or not. Obviously, she poured her feelings about the world around her into those poems. Further, just doing so must have been reward, enough. A big part of why I write rhymed and metered poems is because I have fun doing it. It takes time and effort, but I am rewarded by the process as much as by the results. Still, I think it would be nice if some of my work lingers on after my death. I hope Emily had an inkling that her work would someday shine.
Posted 05/16/2023 08:44 AM
Joan Luther:
Ahhhhh, an ode to flowers wins the day. Thank you for sharing!
Posted 05/16/2023 08:33 AM