Last eve the sun went down
Like a globe of glorious fire;
Into a sea of gold
I watched the orb expire.
It seemed the fitting end
For the brightness it had shed,
And the cloudlets he had kissed
Long lingered over head.

All vegetation drooped,
As if with pleasure faint:
The lily closed its cup
To guard 'gainst storm and taint.
The cool refreshing dew
Fell softly to the earth,
All lovely things to cheer,
And call more beauties forth.

And as I sat and thought
On Nature's wond'rous plan,
I felt with some regret,
How small a thing is man.
However bright he be,
His efforts are confined,
Yet maybe, if he will,
Leave some rich fruits behind.

The sun that kissed the flowers,
And made the earth look gay,
Was culling, through the hours,
Rich treasures on his way.
And when the day was dead,
His stored-up riches fell,
And to the moon arose
Incense from hill and dell.

And when our span of life
Is ended, will it be
Through such a glorious death
We greet Eternity?
What have we said or done
In all the long years passed!
And may not such as me,
Forgotten, die at last?


This poem is in the public domain.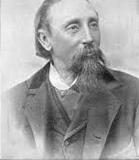 John Hartley (1839 – 1915 or 1917) was an English writer, born in Yorkshire to parents who owned a tea shop. Initially, he worked in the textile industry, but started writing poetry in his twenties and quickly built a reputation as a gifted writer and orator. He published numerous books of poetry and prose, usually written in Yorkshire dialect and frequently focused on the poverty and hardships of that region. In his thirties, John moved to Canada and, eventually, to America. Ultimately, he ended up in Philadelphia, working as a textile designer to augment his writing income. He returned to England in 1894, where he remained until his death.
Wilda Morris:
Thank you for introducing us to John Hartley!
Posted 05/19/2023 06:52 AM
Lyric:
"all vegetation drooped/as if with pleasure faint" aaaa so lovely
Posted 05/17/2023 02:12 PM
liz dolan:
And he also knew a fine cup of tea.
Posted 05/17/2023 01:05 PM
Larry Schug:
Especially poignant for us old dudes, eh, Darrell? Those thoughts do creep in. So if you want to be remembered well, do something good. Good choice, Jayne.
Posted 05/17/2023 12:40 PM
paradea:
Beautiful!! I love old poetry!!
Posted 05/17/2023 11:23 AM
Darrell Arnold:
Wow! Heavy pondering for so early in the day. I like this well-crafted poem. It makes me contemplate what I will leave behind when I pass. We all, of course, will contribute our bodies to the biosphere. What is left, then, is our works and deeds that will (or will not) be appreciated by future humans. I pray to leave behind something positive and not be forgotten too soon.
Posted 05/17/2023 08:39 AM
Michael:
Wonderful rhyming sequences accompanied by abiding wisdom. Truly, the natural world becomes, for this poet, a mirror of truth.
Posted 05/17/2023 08:39 AM