That black snake already claims his place
in the sunshine, lies there like he belongs
on the walkway out front.
†
Soon orange daylilies will bloom the hours †
of summer. Walnuts already flaunt new leaves, †
and the beech tree stands fully caped in green, †
shades the ground below.† †
†
Kindness and comfort grow on their own.
Sit awhile, life is slow. Marvel at stalks
of tiny star petals called blue-eyed grass.
Watch red clover grow.† †
†
Search for pink lady slipper in the woods.
Weave a smooth tapestry of words and nature,
bumps and bruises show up as beauty features.


© by Mary Ricketson.
Used here with the authorís permission.
†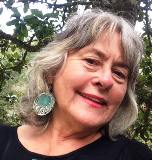 Mary Ricketson lives in Murphy, North Carolina, where she is a mental health counselor and a blueberry farmer. Author of seven poetry collections, she won first place in the 2011 Joyce Kilmer Memorial Forest 75th anniversary national poetry contest. Inspired by her work and her Appalachian environment, Mary's poems reflect the healing powers of nature; she calls the mountains that surround her "a midwife for my words."

†
†
†
Wilda Morris:
I love the way the snake is included in the beauty of nature. A fine poem.
Posted 06/28/2023 09:11 AM
Lori Levy:
Soothing, positive attitude.
Posted 06/24/2023 05:30 PM
Stephen Anderson:
Its encouraging that so many of us poets connect with the wonders of Nature like W.S. Merwin and Jane Hirshfield have done. Nicely done, Mary!
Posted 06/24/2023 03:24 PM
maryricketson311@hotmail:
Thanks everybody. I love for folks to share the wonder I see.
Posted 06/24/2023 03:20 PM
cork:
I love reading the comments!
Posted 06/24/2023 10:58 AM
David:
Excellent. Vibrant imagery and fresh use of language.
Posted 06/24/2023 10:01 AM
Michael:
Love it when I see a black snake sunning on a rock!
Posted 06/24/2023 09:40 AM
Larry Schug:
Good advice, poetically stated.
Posted 06/24/2023 08:15 AM
Joan Luther:
Flowers and such offering an invitation..wonderful way to word a lovely summer wander outdoors
Posted 06/24/2023 06:19 AM
Nicholas:
Love this. Felt I was there. So much colour and calm.
Posted 06/24/2023 05:56 AM