In the shadow
of an ancient
massive
mountain range

A small stream,
soft of sound
and continuous,
moves the clear water.

The rounded stones,
brown with age,
are partially or
completely submerged
by the never-ending flow.

In their stillness
the stones of varying sizes
do not shudder against
the relentlessness.

One dark brown stone
stands out,

Not because of size
or particular
beauty.
.
It differentiates itself
by reflecting the sunlight
from the top
of the mountain range

Far above.

From the depths
of the ravine

This one stone
relentlessly
shares the
reflection
of
Eternal Light.


© by Dan Batson.
Used with the author's permission.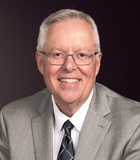 Dan Batson is a retired United Methodist pastor who lives in Marietta, South Carolina with his wife, Rene', and their cat, Ansie Gray. Author of a memoir, Morning, he is currently working on a collection of true stories he has used in sermons for the past 30+years. Dan enjoys spending time with his grandchildren and family. He has recently rediscovered his love of gardening and enjoys taking long walks in the mountains near his home.
Brandon New:
God bless you and Renee Pastor Dan. with love, Brandon New
Posted 07/22/2023 10:49 AM
Wilda Morris:
Well done!
Posted 06/28/2023 09:09 AM
peggy.turnbull:
What a beautiful, comforting poem. I love the stones that "do not shudder against / the relentlessness." I have known stones like that. Now they are an image for me to consider during the storms of life. Thank you.
Posted 06/26/2023 08:55 PM
Lori Levy:
Like how the dark brown stone stands out because it reflects the sunlight.
Posted 06/25/2023 04:48 PM
CamilleBalla:
Oh, this poem reminds me so much of time I spent by the river, noticing the stones, drawing from within my own faith, acceptance, resilience, life as it ison that Sunday morning. A great reminder to revisit the place where I also penned a poem. Thank you!
Posted 06/25/2023 11:56 AM
Joan Luther:
Mountain range.moves the clear water. One of the infinite gifts from God through your keyboard
Posted 06/25/2023 10:54 AM
cork:
I love the continuous flow of the stream.
Posted 06/25/2023 10:41 AM
Larry Schug:
I agree with Janet. The ending of this poem is superb; to me, a metaphor of what the human condition and the condition of the whole of Earth's varied forms of life should be.
Posted 06/25/2023 08:21 AM
JanetRuth:
how beautiful! the last line made me gasp with delight and joy!
Posted 06/25/2023 08:01 AM