Before Kennywood
banned bring–in food,
we packed eggplant "parm,"
spaghetti, watermelon, salads--
no cooking on common use grills
for our family.

After a morning of rides
we spread out across two picnic tables—
cousins, aunts, uncles,
grandma, parents—
to eat and talk
and talk and eat
until the long day's sun
burned the sky away.

Darkness brought
fireworks fighting
with the moon for sky space
as we festooned the lower air
with light by
running with sparklers
as the adults cleaned up the picnic.

When all lights
and noise gave
way to the quiet,
cool twinkling of stars,
and moon declared
victory over the man-made lights,
we piled into assorted Oldsmobiles,
Fords, and Studebakers
and headed home.


© by Joan Leotta.
Used with the author's permission.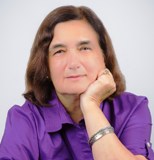 Joan Leotta lives near the coast in North Carolina. When she is not performing folktales or at her computer composing poems and stories, you can find her at the beach collecting shells and admiring the sea. Her latest book is Feathers on Stone. Learn more about Joan at www.joanleotta.wordpress.com.
joan:
Thank you, everyone for your comments on the poem--I have trouble getting onto the comment site since I mostly read on my ipad
Posted 07/30/2023 07:07 AM
Wilda Morris:
Wonderful language, great use of the moon! And wonderful family memories.
Posted 06/28/2023 09:08 AM
NormaB:
Your imagery is wonderful--I can see and feel it all!
Posted 06/27/2023 12:40 PM
Jancan:
Very descriptive of pleasant scenes and nostalgic
Posted 06/26/2023 11:45 PM
Lori Levy:
Very visual. I can see the scene clearly.
Posted 06/26/2023 09:15 PM
peggy.turnbull:
I never thought my siblings and I had "festooned the lower air / with light by /running with sparklers..." After reading this poem, I know now that we created magic! Thank you, Joan!
Posted 06/26/2023 08:21 PM
Shoshauna Shy:
Wonderful imagery, Joan!
Posted 06/26/2023 06:12 PM
paradea:
Good one!!
Posted 06/26/2023 04:10 PM
MLove:
I would have loved that! Thanks!
Posted 06/26/2023 04:06 PM
Denise:
I loved this warm, summer family portrait of food traditions, all day fun, up thru to the sky by night's end. Your poem was so clear in description that I felt I was there with you Joan. How fun! Thank you for sharing your wonderful family memory.
Posted 06/26/2023 11:07 AM
cork:
Yes, those cars a wonderful touch.
Posted 06/26/2023 10:28 AM
David:
A nice memory nicely portrayed
Posted 06/26/2023 09:18 AM
Larry Schug:
Well, we still have moonlight, starlight, Fords and memories. Well said, Joan.
Posted 06/26/2023 08:14 AM
Sharon Waller Knutson:
Love to wake up to a perfect photographic poem from one of my favorite poets. Love how Joan shows how July 4 is a time for food, family and fireworks. Love the unique imagery: "fireworks fighting with the moon for sky space" and "we piled into assorted Oldsmobiles, Fords, and Studebakers and headed home."
Posted 06/26/2023 08:03 AM
Angela Hoffman:
Family time is the best Joan.
Posted 06/26/2023 07:52 AM