All night the crickets chirp,
Like little stars of twinkling sound
In the dark silence.

They sparkle through the summer stillness
With a crisp rhythm;
They lift the shadows on their tiny voices.

But at the shining note of birds that wake,
Flashing from tree to tree till all the wood is lit—
O golden coloratura of dawn!—
The cricket-stars fade softly,
One by one.


This poem is in the public domain.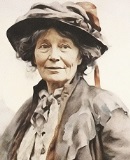 Leonora Speyer (1872 –1956), was an American musician and poet. Born in Washington, D.C., the daughter of a Prussian count, her first career was as a concert violinist. She performed with both the Boston Symphony Orchestra and the New York Philharmonic, as well as with numerous orchestras in Europe. In her forties, Inspired by her good friend, well-known poet Amy Lowell, after a second marriage, a bout with neuritis that ended her musical career, and a move from London to New York, Leonora began writing poetry. She achieved significant critical and popular acclaim and received the 1927 Pulitzer Prize in poetry for her book, Fiddler's Farewell.
Anastasia:
Such beautiful images! And what a life she led!
Posted 07/18/2023 01:12 AM
Wilda Morris:
What a gem of a poem!
Posted 07/15/2023 10:23 AM
Jonah:
"Little stars of twinkling sound" -- the best. I also wish I had written it.
Posted 07/13/2023 01:25 PM
Larry Schug:
The inter-play of light and sound in this little gem is mindbendingly awesome.
Posted 07/13/2023 11:23 AM
Michael:
I can hear those little guys even though they are resting quietly at this hour, (as is Leonora).
Posted 07/13/2023 09:54 AM
David:
So much magic packed in so few words !
Posted 07/13/2023 09:29 AM
pwax:
"little stars of twinkling sound" -- a phrase I wish I had written. Thank you, Jayne, for finding this gem.
Posted 07/13/2023 09:05 AM
Jancan:
Such lovely figures of speech. Good choice for the day
Posted 07/13/2023 08:11 AM