--an homage to the artist Andrew Wyeth (1917-2009)


What connects us
to certain places or
pieces of music and art?

Sometimes I wonder
if itís a melody itself that calls
or someplace
deep within the composerís heart
instead,

and as I blissfully drive
through Andrew Wyethís
Brandywine Valley,
over rolling green hills,
past old stone houses,
forests and fields,
I wonder too,
if it calls me more
because of the artistís devotion
and decisive tenderness
toward his subjects.

As a self-proclaimed misfit
meticulously painting the details
of those quirky characters
who lived on the land,
he brought us beneath
††††††††††††† the surface,
†††††††††††††††††††††††††† to ponder their souls.


© by Joan Kantor.
Used here with the author's permission.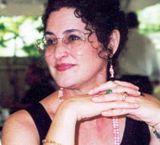 Joan Kantor lives with her husband in Collinsville, Connecticut. A college counselor and learning disabilities specialist for many years, Joan also has training in education and marriage and family therapy. Active in a number of poetry outreach efforts, she is a member of the International Academy for Poetry Therapy and collaborates with both visual artists and musicians in Stringing Words Together, an interactive program of poetry and violin music. Her most recent book is Filling in the Black: One Woman's Journey of Re-education (WovenWord Press).
Anastasia:
Beautiful, and a suitable companion to the paintings!
Posted 07/18/2023 01:28 AM
Lori Levy:
Insightful, great ending.
Posted 07/12/2023 02:11 PM
Michael:
So sensitive, Joan, and introspective. As we poets should be.
Posted 07/12/2023 11:02 AM
cork:
"an homage" forces me into a pronunciation review.
Posted 07/12/2023 10:53 AM
KevinArnold:
The unexpected indentation of those last two lines works very well.
Posted 07/12/2023 10:08 AM
Jancan:
Lovely, descriptive, moving piece
Posted 07/12/2023 09:36 AM
Joan Luther:
Lovely words for Wyeth! In moving near Greenville, SC, I had to see the Wyeth paintings at the museum there. His meticulous conductors paint strokes in egg tempura swept a part of my soul.
Posted 07/12/2023 07:56 AM
mail@schoolbusmart.com:
Nice homage to Wyeth. I love this artist. Thank you. Randy Mazie
Posted 07/12/2023 07:02 AM