Little fly,
Thy summer's play
My thoughtless hand
Has brushed away.
Am not I
A fly like thee?
Or art not thou
A man like me?
For I dance
And drink and sing,
Till some blind hand
Shall brush my wing.
If thought is life
And strength and breath,
And the want
Of thought is death,
Then am I
A happy fly,
If I live,
Or if I die.


This poem is in the public domain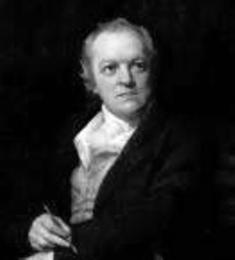 William Blake (1757 - 1827) was an English poet and painter. Best known today for his poem, "The Tyger," Blake enjoyed virtually no acclaim as a poet during his lifetime. Today, however, he is considered an immense talent in both literary and artistic circles. Trained as an engraver, Blake produced all but one of his poetry books himself. His wife—whom Blake himself taught to read, write, and draw—was a valued partner and critic. Much of Blake's work focused on religious themes, with a colorful swirl of fantasy tossed in.
EDELINE:
a fine poem, for sure, but why do you print it like this, when it is clearly composed of four-line stanzas? Francis EDELINE (Lige, Belgium)
Posted 07/20/2023 04:28 PM
paradea:
Love this!!
Posted 07/15/2023 12:45 PM
Wilda Morris:
It is always good to return to Blake! Thank you!
Posted 07/15/2023 10:19 AM
Adriana:
Charming, love the first four lines, but how can one be a happy fly if one dies?! The poem makes me think of the fifties sci fi film The Fly in which the man becomes a fly, but it's actually a touching and compassionate story.
Posted 07/14/2023 07:07 PM
Anastasia:
Blake has been a favorite of mine for years! This poem certainly gives one a moment's pause.
Posted 07/14/2023 01:10 PM
Michael:
Masterpiece of craftsmanship.
Posted 07/14/2023 09:35 AM
KevinArnold:
So modern!
Posted 07/14/2023 08:49 AM
pwax:
Wonderful poem! Thanks Dan and Jayne.
Posted 07/14/2023 08:40 AM
Darrell Arnold:
I hope it happens to me. I'll never be a poet laureate, or even, as my fellow cowboy poets like to describe it, "poet lariat." Further, the circle of people who appreciate my poetry is not a large one. Still, if 196 years from now, some future poetry lover is reading, reciting, or enjoying the few carefully crafted rhymes I leave behind, I will have succeeded beyond measure. As for the bugs, I do appreciate beetles, hummingbird moths, fireflies, butterflies, dragonflies, and honey bees.
Posted 07/14/2023 08:35 AM
Mrs.B:
Thanks you for this.
Posted 07/14/2023 08:29 AM
ladyleo191:
Blake has always been one of my favorite poets. Happy to see this one this morning.
Posted 07/14/2023 08:05 AM