Lou showed me how,
I was her shadow,
what she did, I did
because she was Lou
and Lou knew how.

Now when I make jam,
I'm seven again
in a world ripe with berries,
luscious blues, purples and reds,
I don't fear thorns
or bees that sting,
just give me sugar and wax
and I'm off on a chase
to find berries.

Berries hide under leaves,
grow deep inside branches,
higher up than my hands can reach,
ripe berries heavy on the vine
load down branches
and mix in the tall grass,
hidden jewels for the finding.

I pick berries to remember Lou,
fill my pail to overflowing,
wash off leaf bits and visiting ants
and recapture the sun of summer,
pour it into a jar or pie shell.
Lou may be gone
but now she's a shadow
in the kitchen.


This poem first appeared in Young Ravens Literary Review (May 31, 2016).
Used here with permission.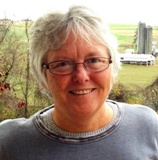 Ingrid Bruck writes poetry, makes jam, and grows wildflowers. A public library director before retiring to rural Lancaster County in Pennsylvania, she stays busy now with three young grandchildren. Ingrid writes a monthly column, "Pearl Diving," for Between These Shores Books, and she is the author of one chapbook, Finding Stella Maris, currently out-of-print. Learn more about her at www.ingridbruck.com.
Anastasia:
"a shadow in the kitchen" - what a wonderful expression!
Posted 07/07/2023 12:54 PM
Wilda Morris:
Wonderful poem. I'm there picking berries with you. I have shadows in my kitchen, too.
Posted 07/07/2023 12:01 PM
Jancan:
Lovely~~nostalgia at its best!
Posted 07/06/2023 05:07 PM
Lori Levy:
I can see the berries and taste them. Beautifully done.
Posted 07/06/2023 10:48 AM
peggy.turnbull:
I exult in the luscious blues and hidden jewels of this poem. The complex emotions revealed are tone-perfect.
Posted 07/06/2023 09:53 AM
cork:
In the fall, we gather rose hips.
Posted 07/06/2023 09:26 AM
Angela Hoffman:
Oh-the simple joys!
Posted 07/06/2023 08:50 AM
Larry Schug:
I had to read the first stanza aloud about six times before I could continue with the rest; it felt so good to my ears as it rolled off my tongue. I find this poem has just the right amount of subtle rhyme and alliteration and the way the ending circles back to the beginning amazes me with its insight. This poem is pure bliss. Hats off to you, Ingrid.
Posted 07/06/2023 08:10 AM