After the print by Hasui Kawase (1883-1957)

The morning slumbers
as even catfish
are slow to stir
in their bottom dwelling—
lagoon waters
blue as crystal
are disturbed just a little
kissed by dawn's light breeze—
a fisherman
rouses in his cramped space
whiffs summer's scents
in the breath of trees—

. . . lingers long by his bed.


© by Michael Escoubas.
Used with the author's permission.
Hasui Kawase (1883 – 1957) was a renowned Japanese artist.
His work is featured in a number of museums around the world.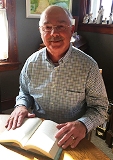 Michael Escoubas began writing poetry for publication in August of 2013, after retiring from a 48-year-career in the printing industry. He writes poetry because, early in life, his mother encouraged him. Michael also writes poetry because he believes poetry brings people together and that poets are menders of broken things. Michael is the author of six collections; his newest is Ripples Into the Light, a collection partnered with photographs by Vandana Bajikar and designed to "rest the soul and calm the spirit."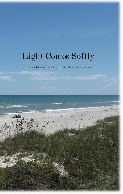 Lori Levy:
Beautiful! I agree with the other comments below.
Posted 07/07/2023 07:40 PM
Stephen Anderson:
I like the zen of this poem, and the invaluable and needed connection between man and Nature!
Posted 07/07/2023 01:28 PM
Joan Luther:
the breath of trees.wonderful phrase. Lovely poem!
Posted 07/07/2023 01:16 PM
Anastasia:
Beautiful and elegant!
Posted 07/07/2023 12:53 PM
Arlene Gay Levine:
Your spare and carefully chosen words are a perfect match for the Kawase painting, expertly evoking the essence of peace.
Posted 07/07/2023 11:32 AM
Wilda Morris:
"... even catfish are slow to stir." Love it, Michael
Posted 07/07/2023 11:11 AM
cork:
Ichiban!
Posted 07/07/2023 10:57 AM
Judy:
Peace beautifully communicated!
Posted 07/07/2023 09:15 AM
Darrell Arnold:
I like this. I'm blessed to be an early riser, so I've always experienced that beautiful, peaceful, quiet time of day. And yet, there are those days when I wish, to, but never do, linger long in bed. This bit of free verse is terrific.
Posted 07/07/2023 08:57 AM
Gilbert Allen:
Quietly vivid and deeply imagined.
Posted 07/07/2023 08:12 AM
Larry Schug:
These words create a mood of peacefulness and I think the fisherman lying in bed for just a moment says much.
Posted 07/07/2023 07:46 AM
liz dolan:
Love those last 5 lines, Michael.
Posted 07/07/2023 07:17 AM