At the mini mart, the post office,
even on the side of the road at a stop light,
it doesn't matter what he said,
or what you said.

You greeted each other,
saw yourself in the other's smile
and heard joy in his voice,
went away full of thanks.

You don't remember
what that person looked like
but later in the day
you ask yourself,

what was it
that made me so happy this morning,
and remember.
* A line from the Jeanne Lohmann poem, "Praise What Comes."


© by Lynn Santy Tanner.
Used with the author's permission.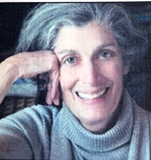 Lynne Santy Tanner was born in New York City but has lived for many years in North Carolina. A professional dancer and choreographer (she was choreographer for the Rutherford County, NC Arts Council for 50 years), she also writes and paints. Lynne's poems have appeared in numerous publications and she is the author of four collections; the most recent is Ten Thousand Spiderwebs Bright with Dew.


Lori Levy:
Wise and insightful.
Posted 07/08/2023 04:03 PM
Anastasia:
An excellent reminder of the importance of these small but significant courtesies. Thank you, Lynne!
Posted 07/08/2023 02:47 PM
Adriana:
A lovely poem. I didn't see it as having anything at all to do with ageing (although in my eighties I do chat with everyone but I always did), just with the fact that in our busy, often rude interactions, a pleasant one stands out and can uplift us for hours...
Posted 07/08/2023 12:18 PM
Shoshauna Shy:
Lynne, I love this! What is it they say: we don't remember what someone said or did but how they made us feel. I am going to look for one of your books.
Posted 07/08/2023 12:03 PM
cork:
"Do you have news for me?" I ask the stranger?
Posted 07/08/2023 10:47 AM
peggy.turnbull:
What an insightful poem! Thanks for reminding me to get out there and mingle with the world now and then. And to smile.
Posted 07/08/2023 09:26 AM
Michael:
So sensitive, gentle, and true.
Posted 07/08/2023 09:12 AM
Angela Hoffman:
Those little interactions do matter! Thank you Lynn!
Posted 07/08/2023 08:50 AM
David:
Wonderful message. Love the title!
Posted 07/08/2023 08:42 AM
Larry Schug:
Even for someone like me, who's always been a shy person, I find MLove's comment rings true. As for this poem, it brought about this insight into my own aging. It's a success! The insight into aging memory also rings true, but also true that we remember feelings, if not faces sometimes.
Posted 07/08/2023 07:59 AM
MLove:
When I was younger, it amused me that older people tend to want to chat with everyone - the store clerk, the person waiting in line behind you - everyone. Now that I'm there myself. I get it... and I do, too! Lovely thought!
Posted 07/08/2023 07:44 AM