Sometimes it's a word, just a word,
some Scrabble tiles arranged for maximum points;
only this word, at this moment,
though inert and imaginary,
on the page or to the ear is anything but.

Perhaps a date (the fruit or the calendar),
the price of gas, a pink rose,
the glint of light off water at sunset on the Pacific.
Then it might just be a note;
one of millions in symphonies and country songs
and hymns of praise or even jazz.
Who knows, it could be the GPS in the car
that takes your mind to a destination never entered.

It could be the smile of a newborn at the baptismal font,
or the "NO!" of an impatient toddler a pew behind you,
when the taste of communion wine transports you to Paris
where you savor a cabernet outside the Café du Pont-Neuf.
A passing lorry wipes away the River Seine and Eiffel Tower
revealing rows and rows of vines where spring is fall,
and your glass, now the color of straw, tastes tart and citrusy.
You blink at the clarity of the photo your mind has conjured…
….but you were just driving to Safeway
to get milk and chicken breasts
and you wind up sitting in the car staring at a blurry dashboard
and you wait there in the parking lot and compose yourself.

What was it about the salsa on that spicy burrito,
or the guy you passed mowing the lawn
outside that church on Foothill?
Oh, you don't know what you'll be doing
when time travel commences.
You find, however, that as shadows lengthen at dusk,
and daylight accrues toward the next summer solstice,
remembrance softens and becomes your very breath.

You hear the voice inside your head:
     …and yet because of you, and all those moments,
     patiently awaiting the spark of recall,
     I can still smile and rise like morning sun
     slowly at times, yet inexorably,
     and walk the Bluff Trail alone, together.


© by Kent Reichert.
Used here with the author's permission.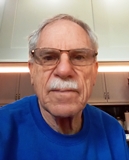 Kent Reichert, a native of Southern California, has been a lifelong educator. He has spent the last 50 years living in the North Carolina piedmont. Currently, Kent and his wife live among trees in the last house at the end of a road overlooking a lake, where he passes the time with photography and writing. His poems have appeared in a variety of publications.
Anastasia:
This made me cry, in a good way. I'm getting ready to travel to another state for a memorial service for a dear friend, and I thought I was doing alright. Thank you for so perfectly expressing this, Kent.
Posted 07/10/2023 10:30 PM
Cleo Russell:
Oh, YES!
Posted 07/09/2023 08:43 PM
Adriana:
Oh my. Too lovely. Too true. Agree with LH below. Have never read that experience expressed so clearly and perfectly in a poem - thanks for your gift to the rest of us.
Posted 07/09/2023 07:20 PM
Michael:
Original, fresh, evocative . . . true to life; we often overlook such nuances, Kent. We are the richer because of this poem.
Posted 07/09/2023 04:45 PM
RonPoems:
I love these diverse images and analogies working so well together.
Posted 07/09/2023 03:45 PM
Leslie Hodge:
a moving tribute to grief. thank you.
Posted 07/09/2023 02:57 PM
MLove:
Beautiful. Now I'm blurry.
Posted 07/09/2023 01:59 PM
Lori Levy:
Beautiful poem, love the details.
Posted 07/09/2023 01:18 PM
Joan Luther:
So true! Wonderful poem!
Posted 07/09/2023 12:07 PM
cork:
Scrabble will never be the same for me.
Posted 07/09/2023 10:47 AM
David:
Very nice from title to ending.
Posted 07/09/2023 09:31 AM
Angela Hoffman:
So beautiful Kent.
Posted 07/09/2023 08:16 AM