Crickets, bird song, and
The riverís melody
Accompany me

On my bucolic
Walk to my little lake
This gentle morning.

Construction noises
Interrupt my reverie
Like clanging cymbals.

Airplanes overhead,
Backup alarms from semis...
Shush, everyone!

But the lake
Pulls me onward.
Blocking out the noise,

Turning the bend, I see
A flash of white--my heart lifts.
Pelican!

And
Not just oneÖ
But nine!

I cannot take
My eyes off you,
My pelicans.

Iíve only ever
Cried once at seeing a pelican Ė
Today.

Sweet family of birds
Swimming, fishing, nuzzling
Baby pelicans!

They just took off and
Are flying over the lake
And me!

Riding the thermals,
Six-foot wingspace aloft,
Aerodynamics!

Easy to feel that
Pelicans, rocks and trees are
My friends today.


© by Jennifer Gurney.
Used here with the authorís permission.
†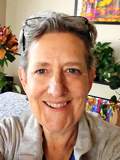 Jennifer Gurney lives in Colorado where she teaches, paints, writes, and hikes. Having only recently embraced poetry, at age 59, she has already published more than 100 poems. Jennifer has also published commentary about poetry. During the pandemic, she joined the online poetry community, The Daily Haiku.
†
Glenda Beall:
I have seen large groups of pelicans when in Florida and I think they are interesting birds. I like this poem.
Posted 07/11/2023 10:46 PM
Anastasia:
What a lovely moment to share! Thank you! My office is on a marina, so I get to watch pelicans fly by during my work day - it's magical, no matter how many times I see it.
Posted 07/10/2023 06:55 PM
Lori Levy:
Like the contrast between the city noises and the beauty of the pelicans.
Posted 07/10/2023 03:26 PM
Denise:
Shush, everyone! A great line. Just wish it would work as I feel the same often. The happiness you derived from seeing your pelicans was palatable. Thank you for sharing that moment in time.
Posted 07/10/2023 01:07 PM
David:
Very nice. The poem is made all the more impactful through the contrast with the construction/ city noises. Its a thrill to see a pelican, let alone nine!
Posted 07/10/2023 11:33 AM
cork:
On a canoe trip, the pelicans flew up and away each time we approached them.
Posted 07/10/2023 10:23 AM
Cleo Russell:
Oh, i love the form of this poem! Lovely pelicans!
Posted 07/10/2023 08:46 AM
Michael:
You put this serendipitous experience so nicely into words, Jennifer. The two become one.
Posted 07/10/2023 08:37 AM