Baskets brimmed with peaches
the color of sunset inside;
others, white with red-veined pulp.
The short rides to Long Island farms
were like this – colorful, abundant.
Food plucked or picked at sunrise
arrives in time for pre-dinner snacks.
As we children trudged up 400 steps
from a long day at the beach, there from shady
morning to shady twilight, leaving mothers
free of screaming kids.
 
With salty skin and seaweed stuck to our bottoms
we'd tromp in with sandy feet
on the cracked linoleum of the bungalow.
The summerhouse, two steps above a tent.
Our lives made simple, privacy relinquished
as we escaped from our city apartments.
 
The summer place for first kisses and dates,
softball heroics, first cigarettes smoked on
moonless nights at the top of the cliff
so high above the beach, yet the waves
even at low tide could be heard, rocks
being washed back and forth, smoothing
their ridges, as we looked forward to
another day at the beach, burning
our skin, polishing our strokes.
 
We would ferret out secret corners
that older kids no longer wanted,
the pre-teens would drift from
one hiding place to another
to create routes to the grown-up world.


© by Maria Lisella.
Used here with the author's permission.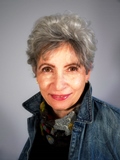 Maria Lisella is a writer, editor, and communications specialist. Her articles on travel, food, culture, and health are widely published and her poetry has earned her the position of Queens Poet Laureate and American Academy of Poets Fellow. A native New Yorker, her books include Thieves in the Family (NYQ Books), Amore on Hope Street (Finishing Line Press), and Two Naked Feet (Poets Wear Prada). Learn more about her at https://marialisella.contently.com/.
marialisella@aol.com:
We did not have helicopter parents ... we for the most part had parents who let us "BE"...
Posted 07/26/2023 09:10 PM
marialisella@aol.com:
We did not have helicopter parents ... we for the most part had parents who let us "BE"...
Posted 07/26/2023 09:10 PM
marialisella@aol.com:
Hi there .. Thank you all ... I kept forgetting to circle back to see if there were comments so really appreciate these. This was Wading River, the Sound Shore Club, a bungalow community of 90 families. Adriana .. there was a lifeguard but not a lot of parents .. we thought nothing could happen to any of us; it was a private beach.
Posted 07/26/2023 09:09 PM
Anastasia:
That is quite the summer! Such wonderful memories!
Posted 07/12/2023 01:54 AM
jamvan:
👍
Posted 07/12/2023 01:04 AM
Adriana:
Especially like the last two lines, although wonder at the mischief they hint at...Kids left unsupervised all day at a beach???? What ancient era was this?! I grew up on Long Island: Baldwin Harbor and Jones Beach were our beaches, not nearby and never unsupervised.
Posted 07/11/2023 07:55 PM
NormaB:
Such great memories and images! Absolutely summer!
Posted 07/11/2023 05:43 PM
Larry Schug:
I think the initial three lines are a poem in themselves. Just luscious!
Posted 07/11/2023 05:37 PM
Judy:
Sweet, vivid memories!
Posted 07/11/2023 03:33 PM
Lori Levy:
Sensual, love the details.
Posted 07/11/2023 01:23 PM
Cleo Russell:
Colorful and abundant indeed! i really felt the colors of this poem. starts with the peach-yellow-pink, light blue, sleepy sunlight of summer noons, ending with dark blue and red-orange flame, drifting into grey cigarette smoke under a twilight sky...
Posted 07/11/2023 11:52 AM
Michael:
Vibrant, visual, full of sounds and reminiscences, sweet and clear. Thank you, Maria.
Posted 07/11/2023 09:00 AM
Angela Hoffman:
sounds idyllic. . .
Posted 07/11/2023 08:33 AM