Strut your stuff
as soon as the sun rises…
sunflower head


© Diane Webster.
Used here with the author's permission.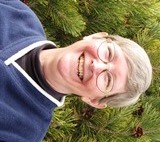 Diane Webster gets ideas from poetry from everyday life, nature, and overheard phrases. She enjoys the challenge of transforming images into words to fit her poems. Retired now after 40 years in the newspaper industry, Diane is enjoying reading all the books she ever wanted to read, dabbling in photography,and loving the scenery and wildlife of the Colorado mountains.
Lori Levy:
I like it!
Posted 07/15/2023 10:09 PM
Joan Luther:
Such a sunny feeling!
Posted 07/15/2023 03:29 PM
CamilleBalla:
Heads up! Fun way to get motivated!
Posted 07/15/2023 02:13 PM
Anastasia:
Clever!
Posted 07/15/2023 01:48 PM
KevinArnold:
Fun three lines.
Posted 07/15/2023 10:51 AM
Wilda Morris:
Good advice!
Posted 07/15/2023 10:17 AM
Michael:
Like the sunflower, we too, can be the sun in a (sometimes) dark world.
Posted 07/15/2023 09:38 AM
Larry Schug:
We can all be sunflower heads, eh?
Posted 07/15/2023 08:40 AM