I canít remember my first tomato
(who remembers a first tomato?)
and I donít want to remember my last,
becauseóyou knowóit will be the last;
but I want to remember in all its ripeness,
its tang-on-the-tongue bursting sweetness,
that next-to-last tomato to grace
a salad or sauce Iíll ever taste
before such a thing as tomatoes
matter to me no more.

Call me the sentimental type.
Iíve developed quite a crush on living
in this world, despite the difficulties
of finding a reliable plumber
on a holiday weekend or making a left
turn against traffic during rush hour.
I figure since Iíve come this far,
nearly three quarters of the way in,
I want to hang around long as I can
just to see what happens next.

So Iíve taken to watching people more
and the news less. Iíve started listening
to voices on the street and in stores
instead of the noise that engulfs me
daily. And I watch with fascination
the choices people make, especially
when it comes to tomatoes in the grocery.
Why that particular one, why that variety?
What drives us to choose the things we do
one moment to the next?

I concentrate now on the taste and texture
of every tomato I buy and slice, boil, or bake,
figuring this one might be the penultimate
to bring the dish Iím preparing
that distinctive tomato flavor. As long as I can
remember this one, I say to myself,
there will always be one more tomorrow
that Iíll get to savor again. Itís a game
I play with myself, and with every next tomato
I win.


From Toes, Toads, Tulips & Turtles: A Miscellany of Verse (Four Windows Press, September 2022).
Used here with permission.
†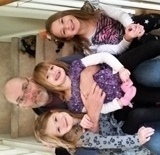 Mike Orlock is a retired high school English and American History teacher who divides his time between the Chicago suburbs and a vacation home in Sturgeon Bay, Wisconsin. He has been married for 46 years to his high school sweetheart and inspiration, Liz, and greatly enjoys being grandfather to five beautiful granddaughters who keep him, he says, "jumping like a frog on a hot skillet." Mike's short stories, poems, and reviews have appeared in a variety of publications and he is currently serving as Poet Laureate of Door County, Wisconsin, a position he will hold for the next two years. Mike's latest book is Toes, Toads, tulips & Turtles, released last fall.
Anastasia:
"Ive developed quite a crush on living in this world" - what a wonderful way to phrase this! My favorites are the classic/heirloom mixes, especially the dark purples one - they're delicious *and* pretty!
Posted 07/18/2023 01:10 AM
May:
Loved this poem, especially the part with watching people more and the news less. Feels especially true in a time like this!
Posted 07/17/2023 07:17 PM
Jancan:
The tomato is very descriptively, meaningfully, and entertainingly used to symbolize something far beyond itself!
Posted 07/17/2023 06:32 PM
ghctenmile@earthlink.net:
Thank you, Mike, for today's YDP poem about tomatoes fresh from the garden (all of them!) and about wanting to hear the voices on the street and in the stores. It will be great, too, as you say, to hang around as long as I can just to see what happens next. Cheers to you. Grace
Posted 07/17/2023 05:03 PM
Lori Levy:
Great details and insights into life, and I love that it all begins and ends with a tomato.
Posted 07/17/2023 12:15 PM
Michael:
All of this wisdom brought forth by a tomato and this one isn't even the last one or necessarily the best one! A well-seasoned salad; where is the entree.
Posted 07/17/2023 12:05 PM
Wilda Morris:
A fun poem and outlook on life! I'm in love with tomatoes, too.
Posted 07/17/2023 11:15 AM
cork:
Gazpacho!
Posted 07/17/2023 10:24 AM
David:
Fun and philosophical. Hopefully well all have one more tomato to enjoy.
Posted 07/17/2023 08:57 AM
Larry Schug:
These words are tasty as a garden tomato. Our first tomatoes ripened last week and are undescribable in their deliciousness, though I'd say you've done a magnificent job of doing so, Mike. Guy Clark's song song has nothing on this poem Your thoughts on life echo mine at this stage of life. A top three YDP poem!
Posted 07/17/2023 08:14 AM
Carol Clearwater:
Really enjoyed this interesting, thoughtful and dry-humoured piece. I too have developped quite a crush on living in this world....love the phrase 'tang-on-the-tongue bursting sweetness'. Thanks, Mike
Posted 07/17/2023 05:16 AM