This is the place that I love the best,
A little brown house, like a ground-bird's nest,
Hid among grasses, and vines, and trees,
Summer retreat of the birds and bees.
The tenderest light that ever was seen
Sifts through the vine-made window screen--
Sifts and quivers, and flits and falls
On home-made carpets and gray-hung walls.
All through June the west wind free
The breath of clover brings to me.
All through the languid July day
I catch the scent of new-mown hay.
The morning-glories and scarlet vine
Over the doorway twist and twine;
And every day, when the house is still,
The humming-bird comes to the window-sill.
In the cunningest chamber under the sun
I sink to sleep when the day is done;
And am waked at morn, in my snow-white bed,
By a singing bird on the roof o'erhead.
Better than treasures brought from Rome,
Are the living pictures I see at home--
My aged father, with frosted hair,
And mother's face, like a painting rare.
Far from the city's dust and heat,
I get but sounds and odors sweet.
Who can wonder I love to stay,
Week after week, here hidden away,
In this sly nook that I love the best--
This little brown house like a ground-bird's nest?


This poem is in the public domain.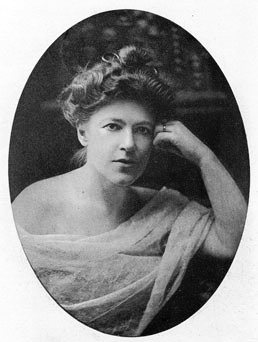 Ella Wheeler Wilcox (1850-1919) was a popular and prolific poet. Published and lauded before she even graduated from high school, Ella preferred to write happy, upbeat poetry and was much beloved for it. More than a dozen of her poems are included in the book, Best Loved Poems of the American People (Doubleday, 2008). The familiar saying, "Laugh and the world laughs with you, weep, and you weep alone. . ." comes from her best-known poem, "Solitude." A morally strong and spiritual person, Ella believed that her purpose on earth was to practice kindness and service. Read more about her here.
paradea:
Love it!!
Posted 08/18/2023 01:31 PM
Wilda Morris:
Good one!
Posted 08/18/2023 09:00 AM
sherieb:
Thank you for the introduction to a remarkable poet, new to me. I have just consumed a happy hour researching her and her works!! Sharon
Posted 08/17/2023 03:52 PM
Jancan:
THIS is my kind of poetry! Thanks for posting this lovely piece!
Posted 08/17/2023 02:36 PM
carlpalmer:
Makes me want to pull out my guitar and strum along.
Posted 08/17/2023 01:04 PM
Anastasia:
What a lovely place! I would like to visit there. Of course, I might never leave . . .
Posted 08/17/2023 12:22 PM
Judy:
So sweet!
Posted 08/17/2023 10:26 AM
KevinArnold:
Ah, one of my favorite poets, doing the rhyming-couplet thing so well. Rhyming always seems to lead to a little intrusion, as in "like a painting rare" Fun!
Posted 08/17/2023 09:41 AM
Darrell Arnold:
So many of us have homes away from homes, homes where nature holds great sway and are quiet and away from the rush of human activity. Mine is a small family cabin, made of logs, high on a mountain, where the visitors are mostly deer, and elk, an occasional bear, and Clark's Nutcrackers (camp robbers). Would that all people had such retreats.
Posted 08/17/2023 08:28 AM
Larry Schug:
My house!
Posted 08/17/2023 07:57 AM