While tea boiled in the kettle,
my grandmother's head circled
for the culprit who claimed her
whistle. No bedroom corner
was safe to hide. She always
found it no matter how much
distance we put between her
and us. Hands of the big clock
in the hall ticking away,
a squeak from her old sneakers,
we heard every closet door
she opened and closed, the swoosh
of her housecoat, her sweet voice
asking from the stairs if we
wanted a peppermint stick,
another bottle of Coke.
She tried to lure us with love
but we knew better, as we
waited for the wool blanket
we had tossed over ourselves
to be thrown in the air, that
screech of triumph searing our
ears—the trophy always snug
in her lips before the tea
bubbled and burned on the stove.

 
This poem first appeared in I-70 Review (Summer/Fall 2021).
From House Bird (Terrapin, 2022).
Used here with permission.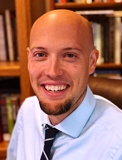 Robert Fillman is the author of House Bird (Terrapin, 2022) and November Weather Spell (Main Street Rag, 2019). His poems have appeared in a variety of venues. Robert holds a Ph.D. in English from Lehigh University and teaches at Kutztown University in Kutztown, Pennsylvania. Learn more about him at www.robertfillman.com.
Lori Levy:
Sharon expresses well what I felt when reading this poem.
Posted 09/14/2023 08:57 PM
peggy.turnbull:
Now thats a fun grandma, with perfect timing, too!
Posted 09/14/2023 06:01 PM
Wilda Morris:
Wonderful memory poem!
Posted 09/14/2023 12:49 PM
Sharon Waller Knutson:
I love the suspense in this delightful visual poem. I can see the tea kettle on the stove and the hands of the clock ticking, hear the sneakers squeaking, the grandmother's soft luring voice and then triumph when she finds her grandchildren as the tea kettle whistles. I could feel the excitement and surprise I felt when I played hide and seek as a kid and with my grandchildren.
Posted 09/14/2023 11:37 AM
liz dolan:
lOVELY WITHOUT BEING SENTIMENTAL.
Posted 09/14/2023 06:56 AM