Each day starts in the open air:
steaming coffee, mug in hand,
spouse across the table.
We drink in summerís pull,
the gentle ripple of the creek,
the fresh aroma of newly shorn grass,
†
rich sparkling dew on the lawn,
like a soft carpet of diamonds
inviting our shoeless feet to indulge

the subtle changing of seasons,
the sun's slow western move
earlier each day
†
as the sultry season buzzes by †
like Motor Maids on bikes
or bees staking their claim at the feeder.
†
In these quiet moments,
we cherish all that is sacred in our lives,
giving thanks before diving into the daily grind.


© by Elaine Sorrentino.
Used here with the authorís permission.
†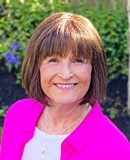 Elaine Sorrentino is a Communications Director by day, but a poet by night--finding inspiration in everyday things such as goats, cows, and Shetland ponies that wander into her yard. She says she is often most inspired at the least opportune moments: putting on makeup, driving to work, preparing for a dinner party, etc.† Elaine, who lives next to a farm in Pembroke, Massachusetts, tries to keep a notebook handy at all times, but has been known to text herself a line or two in the middle of the night.
†
†
Lori Levy:
Beautifully expressed "quiet moments."
Posted 09/21/2023 03:22 PM
whysomy:
what lovely writing. i really appreciated the repeating "s" sound ("sparkling", "sun's slow", "sultry season"), which made the whole poem very soothing, almost musical, to read.
Posted 09/21/2023 02:25 PM
liz dolan:
Yes great images.
Posted 09/21/2023 01:14 PM
Sharon Waller Knutson:
I like the way this poem flows fluidly like the coffee, creek, lawn, seasons. It's very meditative and sensory. I can see, feel and taste this poem.
Posted 09/21/2023 12:52 PM
Adriana:
To David: And don't forget the word "grind" that ends the poem! A lovely poem capturing an enviable morning routine...
Posted 09/21/2023 12:45 PM
David:
An excellent poem skillfully crafted. I much appreciated the co-mingling (probably not the right word) of sensory images drink in and aroma after the reference to coffee, etc.
Posted 09/21/2023 11:56 AM
KZman:
Thank you for the lovely reminder of joy and gratitude in our daily lives! What gorgeous imagery!
Posted 09/21/2023 11:41 AM
peggy.turnbull:
And why not begin each day looking for and celebrating the beautiful images in our lives? Thank you for the poem and the reminder.
Posted 09/21/2023 10:37 AM
Wilda Morris:
If we live in gratitude, we are happier and more fulfilled. And kinder, too! All that is sacred. Yes!
Posted 09/21/2023 09:05 AM
NormaB:
Your poem reminded me to cherish my own morning ritual. Thank you.
Posted 09/21/2023 08:14 AM
Larry Schug:
Rituals are important as we"cherish all this is sacred"'
Posted 09/21/2023 07:48 AM