Leaves floating on pond ó
beneath its crystal surface,
koi observing fall


© by Jana Kalina.
Used here with the authorís permission.
†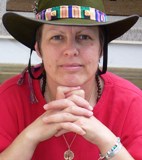 Jana Kalina lives with her husband on Vancouver Island. During her lifetime, she has lived extensively on three of the planet's seven continents and, today, her pursuits can be distilled down to three things: Buddhism, bonsai cultivation and, of course, poetry--especially haiku.
†
peggy.turnbull:
I'm with Wilda about the use of "fall." :)
Posted 09/23/2023 02:58 PM
Lori Levy:
Beautiful haiku.
Posted 09/23/2023 12:25 PM
Wilda Morris:
I like the double meaning of "fall."
Posted 09/23/2023 10:19 AM
HazelGrammie:
Love this!
Posted 09/23/2023 10:03 AM
KevinArnold:
A glimpse of another way of being, a stillness.
Posted 09/23/2023 09:35 AM
Michael:
Excellent dual meaning to "fall." Well done, Jana.
Posted 09/23/2023 09:25 AM
Larry Schug:
A different perspective. Thanks, Jana.
Posted 09/23/2023 08:05 AM