Thelma, who drives a County bus,
says a coyote padded aboard in Belmont
and got off in San Carlos,
never paying a fare.

Coyotes are reported in Manhattan
somehow crossing bridges, through tunnels.
Adaptable beasts, soon they'll
hail taxis, drink martinis,
leave lousy tips.

Astronauts, be warned
as you fly toward the stars,
likely you'll find
coyotes on Mars.


© by Joe Cottonwood.
Used here with the author's permission.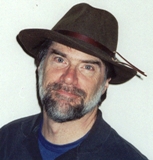 Joe Cottonwood is a semi-retired contractor with a lifetime of small jobs repairing homes. He lives with his high school sweetheart under redwoods in the Santa Cruz Mountains of California, caring for curly-haired dogs and straight-haired grandchildren. Joe's latest book is Random Saints. Learn more about him at www.joecottonwood.com.
peggy.turnbull:
This poem is a great invitation to speculate on what oddities might survive into the future and how they might evolve.
Posted 09/25/2023 01:48 PM
Wilda Morris:
Love it! Combining actual happenings with imagination and humor.
Posted 09/25/2023 01:15 PM
Lori Levy:
Love the humor. They're in our neighborhood in L.A. too.
Posted 09/25/2023 01:04 PM
Denise:
Thank you for a wonderfully imaginative poem that made me chuckle thru out. And somehow there may be some truth involved to it as well! They do seem to be everywhere anymore. Thanks Joe. Excellent way to start my week.
Posted 09/25/2023 11:24 AM
Michael:
I think we humans took away a lot of their habitat! Thus, we have the thrill of actually spotting one from time to time. Excellent imaginative piece, Joe. Thank you.
Posted 09/25/2023 10:16 AM
KevinArnold:
Perfect title.
Posted 09/25/2023 09:45 AM
David:
Clever and fun!
Posted 09/25/2023 09:15 AM
Larry Schug:
Joe, you are one fine poet and this is one fine poem. I love to hear the neighborhood coyotes yipping and singing on a star-filled night. And who knows, perhaps coyotes came from Mars
Posted 09/25/2023 08:21 AM
Joan Luther:
What wanderful words! Enjoyed thisand wondering if this should become a song!
Posted 09/25/2023 08:07 AM
Alarie Tennille:
Enjoyed this, too. One of my critique group friends was sitting on her front steps one day when a coyote sauntered by. She's in the suburbs, not the country, but she does go hiking in the nearby woods.
Posted 09/25/2023 06:30 AM
paula:
fun!
Posted 09/25/2023 05:36 AM
Sharon Waller Knutson:
Should be love, not lose. My computer can't type.
Posted 09/25/2023 05:08 AM
Sharon Waller Knutson:
I knew I was going to lose this poem as soon as I read the title, "Coyotes Get Around" because coyotes do get around in the wildlife habitat where we live. As soon as I saw it was written by one of my favorite poets I knew I was in for a wacky ride. Only Joe has the imagination to put coyotes in a county bus and on Mars. But I have seen them myself stopping traffic in Phoenix and LA. So Joe is write coyotes are everywhere.
Posted 09/25/2023 05:07 AM