You, sitting on my kitchen chair, chipping apples
into a bowl in your lap, my garden pail at your feet.
Your hands, in a familiar circuit of movement,
do not stop as you inquire of me, as though
a stranger, 'Do you KNOW how many apples there are?'

I would paint this image in oils on rough canvas, Chagall-like ~
you, wearing my yellow apron, drifting in your chair skyward;
the pail tilting sideways, the spiral of peel draping from your knife.
In your lap, the bowl overflowing with apples; your hair blown
across your brow; the breeze coming in the open door. Light
shining into the room as though to say, in any language, September.

*a good word to describe both apples and old friends


© by Judith Heron.
Used with the author's permission.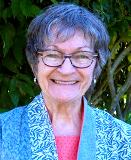 Photo Credit: Mandy Greyling Holmwood
Judith Heron lives in Victoria on Vancouver Island. She has been published in a number of chapbooks edited by Patrick Lane, and in three anthologies: A Murder of Crones (Ptarmigan Press 2007), The Wild Weathers: a gathering of love poems (Leaf Press 2012), and Poems from Planet Earth (Leaf Press 2013). Though she has always lived on the west coast of Canada, Judith cherishes the homestead traditions of her prairie heritage. She relishes the rituals of becoming an elder, which include permission to visit and work in various gardens and to spend more time "with the birds."

Leslie Hodge:
Lovely image, great warmth
Posted 09/27/2023 05:28 PM
Wilda Morris:
Very visual, and yet very suggestive. Well done!
Posted 09/27/2023 12:27 PM
Lori Levy:
Beautifully portrayed. Great ending.
Posted 09/26/2023 03:48 PM
carlpalmer:
Full of the small things so often we overlook, take for granted, shown so well in this poem.
Posted 09/26/2023 01:06 PM
paradea:
How beautiful!!
Posted 09/26/2023 11:47 AM
JanetRuth:
gorgeous! love the ending<3
Posted 09/26/2023 11:35 AM
MLove:
Light shining in... in any language "September". I can see this painting clearly in my head. I'd love to see it in person!
Posted 09/26/2023 11:12 AM
KevinArnold:
Oh, yes. Fine poem.
Posted 09/26/2023 09:49 AM
NormaB:
I can see this painting so clearly.
Posted 09/26/2023 08:03 AM
Larry Schug:
I really like the title, a very important part of any poem. The poem is built in so many ways from it.
Posted 09/26/2023 07:59 AM
liz dolan:
I love the yellow apron-the reverence.
Posted 09/26/2023 07:57 AM
David:
Very nice. Love the Chagall description.
Posted 09/26/2023 07:42 AM
Angela Hoffman:
beautiful!!!
Posted 09/26/2023 07:05 AM
bobbi43sml@aol.com:
Just gorgeous , I can smell the apples and feel the soul mate love of dear old friends. A "keeper" indeed. Thank you Judith
Posted 09/26/2023 06:45 AM