I search their images,
these ancestors of mine.
Their sepia visages beckon me
with an insistent, almost
inaudible, hum.

Their eyes are not my eyes,
nor their lips. Yet here
a tilt to a chin,
the high bridge of a nose,
a hint of a smile,
the sly suggestion
of a special secret.

And so they lure me,
slowly at first, then
ever more eager,
I trace each dusty line
of faces long gone,
willing my fingers
to absorb the pulse,
feeling for the warm
breath of their stories.


© by Merle Hazard.
Used with the author's permission.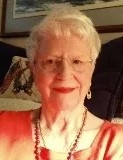 Merle Hazard lives in Macon, Georgia. Her poems have appeared in a number of secular and inspirational publications. A home health and hospice nurse for many years, she worked as a director of programs as well as at bedsides. Now retired, Merle enjoys reading, walking, playing bridge, feeding the birds, her garden, and spending time with friends and family.
peggy.turnbull:
I love that the poem acknowledges the allure of our ancestors. Theres so much we want to, yet can ever know. Beautifully written.
Posted 09/28/2023 12:56 PM
Jancan:
Very moving and expressive
Posted 09/27/2023 09:51 PM
Lori Levy:
Beautiful.
Posted 09/27/2023 05:28 PM
Sharon Waller Knutson:
I enjoyed this clever creative poem. Favorite image: willing my fingers to absorb the pulse, feeling for the warm breath of their stories.
Posted 09/27/2023 01:49 PM
NormaB:
That last line really spoke to me.
Posted 09/27/2023 01:13 PM
Wilda Morris:
Wonderful. I agree with Gerald!
Posted 09/27/2023 12:24 PM
Angela Hoffman:
lovely
Posted 09/27/2023 09:03 AM
Gerard Coughlan:
An excellent poem . I love the shy , tentative , respectful mood of the opening two stanzas . The conclusion has a significant mix of a growing bond...yet , a sense of great loss as the human - stories , of lives lived , will never be fully narrated .Well done . 'There is Birth and Death . The Interval is theatre . '
Posted 09/27/2023 04:28 AM