Septemberís almost over. Thereís an ever-growing moon.
Low temps are touching 40s, and the yucca are in bloom.
The great Goliath beetles are still clicking here and there,
But many are now on their backs, just kicking in the air.
The robins, who would wake us up before the morning light,
Are nowhere to be seen or heard. I miss their sound and sight.
The hummingbirds, once numerous, are fewer every day.
The mantises who preyed on them are praying that theyíll stay.
The breeze that was so welcome in the roasting summer air
Is now a colder blast that makes us add a second layer.
The crunch of leaves beneath our feet ó an annual autumn sound,
As trees begin to cast their summer wardrobes to the ground.
The leaves in that old cottonwood are rattling in the wind.
The frost of fall approaches, and weíre at the summerís end.
Up in the sky, too high to see, the cranes cry in their flight,
Level with the tops of mountains coated now in white.
And, out there on the mountainside, the rutting bull elk call.
Iím going up to see them, now. I dearly love the fall.


From A Bard in Boots (Arizona Cowboy Connection, 2023).
Used here with the authorís permission.
†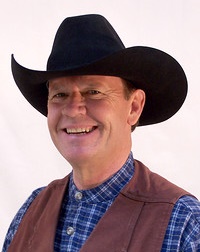 Darrell Arnold has been writing poetry for more than forty years. He was an associate editor at Western Horseman magazine for five years, then launched his own publication, Cowboy Magazine, which ran for nearly eighteen years. Poetry, primarily cowboy poetry, was an integral part of both publications. In the early '90s, Darrell started turning his poetry into songs and has now had more than 20 poems recorded by various western singers; two of them have earned song-of-the-year" awards from Western Writers of America and the Western Music Association. Darrell continues to write poetry and has extended an open invitation to cowboy singers everywhere to team up with him to make more memorable songs. For details and special pricing on his books, contact him at P. O. Box 3097, Colorado City, AZ 86021.
Adriana:
I love Fall, and this lovely poem with its perfect rhyming. I particularly like "summer wardrobe." And the final line which gives a punch of immediacy and invitation, like Frost's "You come too." One tiny suggestion: to make the line beginning with "Level" consistent with all other lines, what about - Level with tops of mountains that are coated now in white -
Posted 09/29/2023 01:13 PM
Kelly Scott:
Darrell, Great Job describing my favorite season of all! Love......As trees begin to cast their summer wardrobes to the ground.
Posted 09/29/2023 11:31 AM
Wilda Morris:
Wonderful list poem! I, too, love the fall.
Posted 09/29/2023 11:24 AM
jamvan:
beautiful observations charmingly relayed
Posted 09/28/2023 10:54 PM
Lori Levy:
Great details to portray the end of summer.
Posted 09/28/2023 04:54 PM
Shoshauna Shy:
Excellent! Vivid imagery, and a surprise twist at the end.
Posted 09/28/2023 01:31 PM
carlpalmer:
Easy flow, rhythm and rhyme, read with a smile
Posted 09/28/2023 12:45 PM
liz dolan:
Love the images and the musicality.
Posted 09/28/2023 10:58 AM
Tom Sharpe:
Good poem Darrell. Fall is my time of year, the sounds , the colors. Away from the snow, the muddy blow and heat of the other three. Good words. Jt
Posted 09/28/2023 09:55 AM
bobbi43sml@aol.com:
ahh, Darrell, how I love a rock "n rolling rhyme - and this just truly does dance . I agree with Joan. Thanks
Posted 09/28/2023 09:44 AM
Judy:
Love your poem, Darrell.
Posted 09/28/2023 09:30 AM
cork:
Here in Wyoming, I have noticed a chill in the air.
Posted 09/28/2023 09:17 AM
pwax:
Wonderful! Masterful rhyming -- nothing forced.
Posted 09/28/2023 08:28 AM
Larry Schug:
Another fine, fine poem from Darrell which shows he's learned the secret to a successful, happy life--pay attention to it. I urge all of you to to read his book.
Posted 09/28/2023 08:02 AM
Joan Luther:
Musical! The words dance my eyes through the month.
Posted 09/28/2023 06:51 AM