The full-orbed moon with unchanged ray
Mounts up the eastern sky,
Not doomed to these short nights for aye,
But shining steadily.

She does not wane, but my fortune,
Which her rays do not bless,
My wayward path declineth soon,
But she shines not the less.

And if she faintly glimmers here,
And paled is her light,
Yet alway in her proper sphere
She's mistress of the night.


This poem is in the public domain.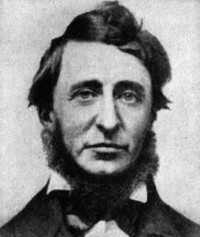 Henry David Thoreau (1817 - 1862) was an American writer who celebrated nature and independence; we know him best for his book, Walden, which chronicles two years of life he spent in a tiny cabin on the shores of Walden Lake, and for his essay, Civil Disobedience, works cited as powerful influences by no less than Mahatma Gandhi and Martin Luther King, Jr.  Thoreau (which is pronounced "THUR-oh," by the way, not "thu-ROW") was a contemporary and friend of Ralph Waldo Emerson, Louisa May and Bronson Alcott, and Nathaniel Hawthorne; he lived his entire life in Massachusetts and was a graduate of Harvard. To learn more about him, visit https://www.walden.org/thoreau/. 
Wilda Morris:
"She's mistress of the night." Yes!
Posted 09/29/2023 11:22 AM
KevinArnold:
Interesting choicethanks. It transcends. :-)
Posted 09/29/2023 09:32 AM
Jancan:
Great choice for the day!
Posted 09/29/2023 09:12 AM
David:
Very nice. Thanks for sharing this with us.
Posted 09/29/2023 08:58 AM
Darrell Arnold:
Oops! How could I forget to mention Dean Martin and "That's Amore?" Shame on me.
Posted 09/29/2023 08:28 AM
Darrell Arnold:
I love it. The moon truly is "mistress of the night." The full moon ALWAYS makes me feel good. Lots of girlfriends and memories come to mind. It makes me wonder about the cosmos. It ends up in much of my poetry. I think of Cher and MOONSTRUCK. Que Bella? And I have yet to encounter any werewolves. No negatives.
Posted 09/29/2023 08:25 AM