Starlings rest in the long grass—-then rise up,
a swirl of wings slapping air that lisps like baseball
cards clipped to spokes of a bicycle's wheel—-
that simple, happy sound of spinning somewhere.
Then, invisible again, they regroup in the cool cover of alfalfa.
 
This goes on all morning.   They rise and roll,      turn on a whim,
then disappear.            Sometimes, a little band of six or seven
flies out, flits a few yards, then submerges. And once, near noon,
a red-tailed hawk drops in but is turned out and up as they rise again,
 
a chattering, shattered cloud of iridescent wings. This is how they practice
above early autumn's grass before it withers to blonde and dun collapsing—
before the sugar maples shed their flaming red and stand naked in the winter sun.
By November                                                they'll be gone.


© by Miriam O'Neal.
Used here with the author's permission.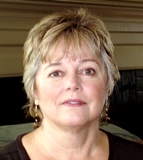 Miriam O'Neal lives in Plymouth, Massachusetts. Author of three books, her award-winning work is widely published. Miriam was instrumental in planning Plymouth's first Poetry Festival this past summer, and she hosts Poetry the Art of Words, a reading series that meets monthly from September through June. She also does presentations for senior living communities. Learn more about her at miriamoneal.com.
Wilda Morris:
Good observation of nature!
Posted 10/01/2023 08:55 AM
Lori Levy:
Beautiful portrayal of the starlings.
Posted 09/30/2023 02:57 PM
Larry Schug:
A wonderful expression of a watchful, detailed observation.
Posted 09/30/2023 08:42 AM