"I wish I was sixty-five again," I whined,
in my seventies.
"I know what you mean,"
Pa agreed,
pushing ninety-nine.
"I wish I was eighty-five again."


This poem first appeared in Talking Stick (2020).
Used here with permission.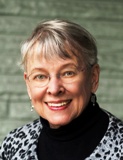 Peggy Trojan published her first poem when she was 77. (She's now 90.) Retired from teaching English, she lives in the north woods of Wisconsin next to a trout stream, where she writes and tends a raspberry patch so she can make jam. Peggy is the author of two full-length poetry collections and five chapbooks. Her newest release, PA, won second place in the 2022 Wisconsin Fellowship of Poets Chapbook Contest and won an Honorable Mention in the Poetry category of the 2022 Northeast Minnesota Book Awards.

Anastasia:
We always want to be some other age!
Posted 11/21/2023 08:49 PM
Jancan:
Short and meaningful
Posted 10/01/2023 05:02 PM
Sharon Waller Knutson:
I love this witty wise adorable poem. Love how Peggy captures the irony of aging. I always said I would never grow older than 28. That was decades ago.
Posted 10/01/2023 12:50 PM
peggy.turnbull:
This poem is wonderful!
Posted 10/01/2023 10:51 AM
Lori Levy:
Funny!
Posted 10/01/2023 10:45 AM
mail@schoolbusmart.com:
Cute! Oh, if only I could remember my age lol. Randy Mazie
Posted 10/01/2023 10:15 AM
njc:
A great reminder at any age! Thanks, Peggy.
Posted 10/01/2023 09:51 AM
cork:
I am 87 years old and looking forward to the future.
Posted 10/01/2023 09:33 AM
David:
Hits the nail on the head as it tickles the funny bone!
Posted 10/01/2023 09:29 AM
Wilda Morris:
Fun poem! Thank you, Peggy!
Posted 10/01/2023 08:53 AM
HazelGrammie:
This so made me smile.
Posted 10/01/2023 08:47 AM
KevinArnold:
Ah yes, along the same lines as the only woman who wants to be 98 is the one whos 97.
Posted 10/01/2023 08:40 AM
Tom Sharpe:
Go back and have to make all those same mistakes again?
Posted 10/01/2023 08:17 AM