So you think when turnin' sixty
That your best years lay behind
And your useful days are over
And it's weighin' on your mind

 You ponder on your younger years
Of hope and health and glory
You think of things you might'a done
To paint a different story

There ain't no turnin' back the years
What's past is gone for good
You probably wouldn't change a lot
Even if you could

It's time to look ahead some
For you ain't quite used up yet
There's chores that still need doin'
And there's fence posts yet to set

So climb back in the saddle
Leave that rockin' chair a while
Go and help your neighbors some
And finish up in style

You never know what lies ahead
So give it all you can
And when you cross that great divide
You'll cross it like a man


© by Russ Westwood.
Used with the author's permission.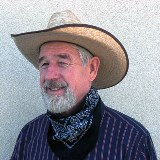 Russ Westwood was born in Moab, Utah. A great nephew of classic cowboy poet, S. Omar Barker, Russ was raised on a ranch and spent a lot of time around horses and rodeos growing up. Retired now from a career as a firefighter and paramedic, Russ appears frequently at cowboy poetry events throughout the West and Southwest. In 2019, he was awarded a championship buckle at the National Cowboy Poetry Rodeo. He has recorded one CD, "The Sheepish Cowboy." Russ and his wife, Marge, currently live in Mesquite, Nevada.
Lori Levy:
Good advice!
Posted 10/02/2023 04:43 PM
Stephen Anderson:
This rings like a true seize-life poem, Russ! Most enjoyable is its down-to-earth wit.
Posted 10/02/2023 02:06 PM
Denise:
Moved by your words Russ, and Judy Collins music giving support and optimism to aging. Getting older isn't for the faint of heart, but it also isn't reason for giving up either. Thank you for that reminder. On to 70!
Posted 10/02/2023 01:39 PM
Adriana:
ditto Liz
Posted 10/02/2023 01:02 PM
KevinArnold:
https://m.youtube.com/watch?v=BbQk7V2oFDM This song by Judy Collins was written when she was 82. It gives this guy hope.
Posted 10/02/2023 10:17 AM
Darrell Arnold:
Nice job Russ. Nice Rhyming, nice meter, nice message. I know you aren't lettin' the grass grow under your feet. And I appreciate that you are out there taking your and other great cowboy poetry "to the masses," for their enjoyment. Keep whoopin' 'n' spurrin'.
Posted 10/02/2023 08:38 AM
Puppet Lady:
Wise words to heed.
Posted 10/02/2023 07:45 AM
liz dolan:
I love the sentiment in this poem, Just wait until you're 80.
Posted 10/02/2023 05:41 AM