(after "How to Pray" by Annelyse Gelman)

Bless the bindweed spreading thready
    tentacles through the landscape and, some days,
        my heart.

Bless the bare dirt loosed by the drive, and the juniper roots loosed
    from the soil, and the juniper
    bush hacked to pieces
    (and bless me and the pruning saw, partners in Juniperus murder, and our furious glee).

Bless the imperfect kitchen with its chaos of pots,
both the useful and never used
(but a good idea at the time).

Bless the fold of fatty flesh, thicker on the left side
(I never understood why),
draping hip
to hip
sagging with more than
gravity's weight,
belying the presence of hip bones
(bless them too).

Bless my hair,
which is weirder than usual this week, for no apparent reason,
since even though Tuesday was my 64th birthday (bless me, 64!),
same day as my haircut,
my hair is much younger than that.

Bless the suspicious mole on my neck near the collarbone,
the spot on my foot that won't heal,
the doctor I'll see next week,
the lab that will run tests,
the computer that will beam results to me;
Bless the Band-Aid that will cover the incision spot.

Bless the blue sky that protects us,
a sweet bubble of pure spring even when
chaos shakes the ground,
bless the chaos,
bless the ground.


© by Judy Fort Brenneman.
Used here with the author's permission.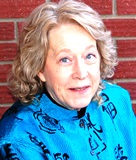 Judy Fort Brenneman calls herself "a story meddler, author, playwright, occasional poet, and writing coach." She's especially interested in the role of writing, story-making, and creativity in human resilience, and offers coaching and writing retreats through her company, Greenfire Creative, LLC. Originally from Ohio, Judy now lives in Fort Collins, Colorado; her most recent chapbook, is Sustaining Wonder.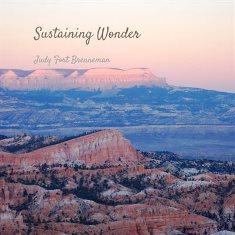 Anastasia:
This is wonderful, Judy! A helpful reminder that when we bless things, they are easier to deal with, no matter how contrary they start out.
Posted 11/25/2023 03:03 PM
jamvan:
Yes. Every second is a prayer of gratitude - a wonderful, personal invocation. thanks
Posted 10/06/2023 02:53 AM
MLove:
For some reason this made me cry. Maybe it hits close to home. Very touching. Well said. Thank you
Posted 10/04/2023 10:49 AM
Jo:
And expresses it graciously with a kind of tenderness. A gratitude poem for sure.
Posted 10/03/2023 11:09 PM
Lori Levy:
Expresses, with acceptance, the bittersweet nature of life. Great!
Posted 10/03/2023 07:27 PM
joanna zarkadas:
Yes! Everything is a blessing..
Posted 10/03/2023 10:05 AM
joanna zarkadas:
Posted 10/03/2023 10:04 AM
Wilda Morris:
Yes! As Angela said, "It seems everything is sacred."
Posted 10/03/2023 08:54 AM
DavidTookey:
In Japan, they have a saying: "I am content with what I am." This poem brings that wisdom to mind!
Posted 10/03/2023 08:37 AM
Angela Hoffman:
It seems everything is sacred.
Posted 10/03/2023 07:48 AM