In my motherís sunroom on Kibbutz Revivim
we hear the cows and the birds.
One bird, whose name I don't know,
trills the same notes over and over
the way my mother, at 90, repeats the same comments,
same questions, same quiet awe: Once I had a good memory.
I took care of you all. Is it time for lunch? †
Do we know whatís for supper? The sky is so blue.
The wind is blowing out there. And always, always,
Itís important to laugh and to laugh at yourself.
She tells us again how she and my father met
in the Honor Society in Weequahic High School in Newark.
Sometimes, out of nowhere, a song pops up
from her childhood, every word remembered as she sings
Down by the Old Mill Stream,
I Love Coffee, I Love Tea,
My Country Tis of Thee.

Light pours in through the windows in the sunroom.
We fill with warmth. Pink bougainvilleas brush the windows,
a lemon tree before us, family photos on the walls and in frames
on the bookshelves: weddings, babies. My fatherís paintings.
In the sunroom beside my 90-year-old mother,
I feel cradled, held. This is peace, I think.
No expectations, no judgments anymore.
Just a being in the moment, in the comfort
of the same questions, the same answers.
Like meditation, says my nephew.
I probe her for tips about love and life. †
The sky is so blue, she says.† It is, it is.
I wait for her to remind me itís important to laugh.


From What Do You Mean When You Say Green? And Other Poems of Color (Kelsay Books, 2023).
Used here with permission.
†
†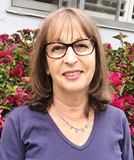 Lori Levyís poems have been published in numerous literary journals and anthologies in the U.S., the U.K., and Israel, and she is the author of a bilingual (English/Hebrew) book of poems,†In the Mood for Orange.†A new collection,†What Do You Mean When You Say Green? †and Other Poems of Color, has just been released from Kelsay Book.†Lori lives in Los Angeles now, but she grew up in Vermont and raised her children partly in Israel. She enjoys reading, writing, and spending time with family and friends, especially in nature. Lori's five grandchildren keep her entertained, on her toes and, occasionally, inspire poems.
†
Jancan:
This is SO moving and expressive!
Posted 10/04/2023 11:30 PM
Lori Levy:
Thank you all for your comments. I appreciate them!
Posted 10/04/2023 07:02 PM
ghctenmile@earthlink.net:
Thanks for this lovely poem.
Posted 10/04/2023 03:33 PM
Arlene Gay Levine:
Tender and beautifully crafted...you share each moment and take us there with you.
Posted 10/04/2023 12:49 PM
Jo:
One of my favorite poems, Lori. I share with Sharon the line: " I feel cradled, held... The tenderness and love really touch me. It's a beautiful poem
Posted 10/04/2023 12:40 PM
paradea:
Love this poem!!
Posted 10/04/2023 10:50 AM
Leslie Hodge:
Beautiful, touching, moving.
Posted 10/04/2023 09:39 AM
Judy:
There is an eternal sweetness on this poem!
Posted 10/04/2023 09:19 AM
Wilda Morris:
Poignant and powerful.
Posted 10/04/2023 09:15 AM
Gilbert Allen:
I enjoyed reading this heartfelt poem.
Posted 10/04/2023 09:00 AM
Larry Schug:
You are very fortunate, Lori, to be able to honor your mother with such a beautiful poem. I miss my mom so much, she never saw one of my poems.
Posted 10/04/2023 08:25 AM
Darrell Arnold:
Thank you Lori for causing a flood of memories to come back to me from my days as a kid, especially those time spent with Dad. Many quality moments.
Posted 10/04/2023 08:11 AM
Angela Hoffman:
Thank you Lori for taking us there with your mother. And yes, the sky is so blue!
Posted 10/04/2023 07:35 AM
Sharon Waller Knutson:
Love this poignant powerful poem that paints a portrait of aging. I love how Lori lovingly shows us how those of us who make it to ninety sometimes regress to childhood. I love the lines: "I feel cradled, held. This is peace, I think." and "Like meditation, my nephew says."
Posted 10/04/2023 06:57 AM