I'm getting good at losing things,
like my glasses resting on a last fluff of grey hair,
while I search high and low, broadcasting
"Has anyone seen my glasses?"

or my car keys, which seem to walk away
from the dish by the front door where
I always put them when I come in the house:
"Has anyone seen my keys?"

Even the clicker for the 65" TV that stares
at me in rebuke, while I search among
the couch pillows and under my rocking chair:
"Has anyone seen the TV clicker?"

Of course, no one ever answers—
I live alone—but, surprisingly,
the glasses, keys, and clicker
always magically reappear,
moved by elves to places unfathomable,
since I always put things down
exactly in the same place, every time.

"BTW: has anyone seen my wife?"


© by Peter A. Witt.
Used with the author's permission.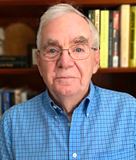 Peter A. Witt is a retired university professor who lives in Texas. An active birder and photographer, he has published two volumes of poetry and a family history (Texas A&M Press). Peter's poetry deals with personal experiences, both real and imagined; his work has appeared in a variety of venues.
paradea:
Love it!! Hahahahaha!!
Posted 10/06/2023 04:07 PM
carlpalmer:
Dad asked me if I believed in the hereafter, I said I did and he replied he did, too. "Every time I enter the room, I wonder what I came in here after." Great poem, Peter.
Posted 10/06/2023 01:38 PM
Adriana:
Yes, but...have you started trying to dial someone with your remote, or find channels on your phone, which I do daily - they are the same size and lie next to each other on the table where I work and watch TV. I add these to all the ones you mention in your witty poem, which is actually quite comforting! So are the comments, especially about the dish washing liquid and the glasses on head...I live alone but now am not so alone!!
Posted 10/06/2023 12:24 PM
Lori Levy:
Like the humor--and truth--in this poem!
Posted 10/06/2023 12:09 PM
Sharon Waller Knutson:
I love this charming wise witty poem that describes aging with a capital A. Peter had me from the title, "Has Anyone Seen My Hearing Aids?" to the last line "BTW: has anyone seen my wife? which is a shocker and a mystery.
Posted 10/06/2023 11:28 AM
David:
Fun, relatable and a poignant ending.
Posted 10/06/2023 09:26 AM
Jancan:
This one resonates with me! One day I couldn't find the dishwashing liquid. SOMEBODY had put it in the fridge. (I live alone!)
Posted 10/06/2023 08:51 AM
Jonah:
Splendid! "Has anyone seen..." is a common cry in our little flat. it seems those pesky elves are everywhere!
Posted 10/06/2023 08:13 AM
Darrell Arnold:
I like it. I'm laffin'.
Posted 10/06/2023 08:11 AM
Wilda Morris:
Fun poem - until that last stanza slapped me in the face! And has anybody seen MY keys?
Posted 10/06/2023 08:09 AM
NormaB:
Those pesky elves! In my house as well!
Posted 10/06/2023 07:52 AM
Joan Luther:
Nice, lighthearted, relatable words and those glasses are sometimes on my head
Posted 10/06/2023 07:27 AM
gercosgrave52@gmail.com:
Very enjoyable read. Rings a lot of bells....if only I could find my hearing aids.
Posted 10/06/2023 05:16 AM