Sun shines through window
Casting shadows on the wall
Morning museum


© by Jennifer Gurney.
Used here with the author's permission.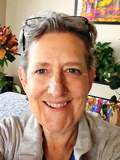 Jennifer Gurney lives in Colorado, where she teaches, paints, writes, and hikes. Having only recently embraced poetry, at age 59, she has already published more than 100 poems. Jennifer has also published commentary about poetry. During the pandemic, she joined the online poetry community, The Daily Haiku.
Anastasia:
Perfection!
Posted 11/21/2023 08:49 PM
Wilda Morris:
Lovely.
Posted 10/13/2023 10:08 AM
Jancan:
Your lovely haiku contains a great metaphor.
Posted 10/12/2023 11:46 PM
Lori Levy:
Great image.
Posted 10/12/2023 02:26 PM
carlpalmer:
peaceful 5-7-5
Posted 10/12/2023 10:12 AM
Tom Sharpe:
Dust devils and cobwebs.
Posted 10/12/2023 09:48 AM
cork:
Lots of old stuff we seldom notice.
Posted 10/12/2023 09:21 AM
NormaB:
Just beautiful!
Posted 10/12/2023 08:59 AM
Joan Luther:
Last line: very creative!
Posted 10/12/2023 08:57 AM
Larry Schug:
I'm liking haiku more and more. Good one!
Posted 10/12/2023 08:25 AM