†††††††††††††††††††††††††† for Janice Alper
†
look up
yellow leaf
against
blue
sky
†
twists
† turns
††† twirls
†
sticks to
my jacket
medal
of
gold
†
sails
† drifts
††† falls
†
walk slow
colorful
carpet
of
leaves
†
donít
† fall
††† down

†
© by Leslie Hodge.
Used here with the authorís permission.
†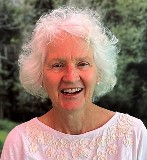 Leslie Hodge lives in San Diego, California. She graduated with a degree in English and Creative Writing, then spent four decades working in HR and IT management. After retiring, Leslie had the opportunity to attend the National Cowboy Poetry Gathering in Elko, Nevada, where she was inspired to begin writing poetry. Since then, Leslie has taken classes, co-founded a Poetry Salon, and experimented with a wide variety of poetic forms and topics. Learn more about Leslie at www.lesliehodgepoet.com.


†

†
Jen:
lovely poem!
Posted 10/13/2023 04:18 PM
Lucy Lehman:
Lovely use of minimalism in poetry. great imagery!
Posted 10/13/2023 01:21 PM
Lori Levy:
I can see those leaves!
Posted 10/13/2023 01:03 PM
Michael:
Reminds me of a similarly styled poem by the great, e.e. cummings. Nicely done, Leslie.
Posted 10/13/2023 12:31 PM
RonPoems:
Great poem, Leslie.
Posted 10/13/2023 10:12 AM
Wilda Morris:
Yes! When looking up while walking - especially on a wet, slick surface, falling is a risk.
Posted 10/13/2023 10:08 AM
Larry Schug:
I very much like the second stanza. I could watch this show put on by leaves for hours (and I sometimes do!)
Posted 10/13/2023 08:17 AM
peggy.turnbull:
Amen to that last line.
Posted 10/13/2023 07:53 AM