is anything but firm.
Unrelenting drama queen,
she drops rain one day,
flakes snow the next,
bolts lightning at night,
breezes balm at dawn.
 
But who would want to trade?
 
She, too, hosts doves  
whose cooing soothes, cozies  
up to trees and their leaves'  
cleansing cells, shares  
sheets of satiny scent, fresh
from sweet clover's homeplace.


This poem first appeared on the Lexington Poetry Month Blog (June 2022).
Used here with permission.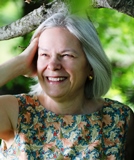 Nancy K. Jentsch calls herself "a second-career poet," having taught German and Spanish at Northern Kentucky University until 2020. She claims to now be "walking through life looking for just the right words, enjoying the thrill of the hunt and the mystery of the power of language." Nancy's newest collection, Between the Rows, was released in 2022. Her work has appeared in various online and print journals and in several anthologies. Nancy says one of the best compliments she ever received was a friend's comment about one of her poems: "I don't like poetry, but I like this." Learn more about Nancy, who lives in Camp Springs, Kentucky, at https://jentsch8.wixsite.com/my-site.
Lori Levy:
Great first line. Unique perspective.
Posted 10/14/2023 01:57 PM
Jancan:
Wonderful, descriptive personification of nature!
Posted 10/14/2023 01:38 PM
CamilleBalla:
Very nice.
Posted 10/14/2023 11:59 AM
jentsch:
Thank you all for your lovely comments. Today's sky is gray here, but there's much to be thankful for!
Posted 10/14/2023 11:18 AM
paradea:
The 'wild blue yonder' and this poet know all the tricks!! Good one!
Posted 10/14/2023 10:48 AM
David:
Understated with beautiful imagery. Very nice.
Posted 10/14/2023 09:48 AM
NormaB:
I love the unique language: flakes snowing.
Posted 10/14/2023 09:17 AM
Wilda Morris:
Lovely!
Posted 10/14/2023 08:31 AM
Larry Schug:
Anything with clover--Yes! I wouldn't trade.
Posted 10/14/2023 08:15 AM
bobbi43sml@aol.com:
Have had days ,usually by the ocean , when I have felt the air was "satiny " but NEVER thought of "sweet clover's someplace". Just so beautiful and brings the scent straight into your memory. 'Just stunning
Posted 10/14/2023 07:41 AM
paula:
lovely use of language!
Posted 10/14/2023 05:33 AM