there will be sun, scalloped by clouds,
ushered in by a waterfall of birdsong.
It will be a temperate seventy-five, low
humidity. For twenty-four hours,
all politicians will be silent. Reality
programs will vanish from TV, replaced
by the "snow" that used to decorate
our screens when reception wasn't
working. Soldiers will toss their weapons
in the grass. The oceans will stop
their inexorable rise. No one
will have to sit on a committee.
When twilight falls, the aurora borealis
will cut off cell phones, scramble the Internet.
We'll play flashlight tag, hide and seek,
decorate our hair with fireflies, spin
until we're dizzy, collapse
on the dew-decked lawn and look up,
perhaps for the first time, to read the long lines
of cold code written in the stars. . . .


From Some Glad Morning ((University of Pittsburgh Press, 2019).
Used here with permission.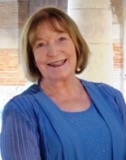 Barbara Crooker's award-winning poems have appeared in numerous magazines, journals, and anthologies and have been featured on the BBC, the ABC (Australian Broadcasting Company), The Writer's Almanac, and in the Poetry at Noon series at the Library of Congress. Recipient of many fellowships and residencies in the U.S., as well as in Ireland and France, she was also a Grammy finalist for her part in the audio version of the popular anthology, Grow Old Along with Me--the Best is Yet to Be. Barbara lives in Fogelsville, Pennsylvania; her newest book, Slow Wreckage, will be released from Grayson Books early next year. Learn more about Barbara at www.barbaracrooker.com. 
Anastasia:
I would be delighted with such a day!
Posted 11/21/2023 08:47 PM
BAMars:
This poem transported me to that game of flashlight tag. Thank you, Barbara.
Posted 11/10/2023 04:31 AM
Lori Levy:
Beautiful fantasy.
Posted 10/15/2023 05:18 PM
ghctenmile@earthlink.net:
I love this poem. Thank you.
Posted 10/15/2023 04:47 PM
David:
And spam calls will stop. Great idea for a poem and wonderfully executed.
Posted 10/15/2023 03:41 PM
Joan Luther:
Read this again and again and will read again tomorrow. Such wonderful thoughts!
Posted 10/15/2023 03:19 PM
Leslie Hodge:
Ah, the "long lines/of cold code" - beautiful!
Posted 10/15/2023 02:06 PM
Arlene Gay Levine:
May it be so one day... "to read the long lines of cold code written in the stars" is a fabulous finish.
Posted 10/15/2023 12:27 PM
Sharon Waller Knutson:
What a treat to wake up to a Barbara Crooker poem that expresses my sentiments. Let's silence the politicians, throw out the internet and cellphones and go back to nature. Bravo Barbara for her wise, witty poem.
Posted 10/15/2023 11:44 AM
KevinArnold:
Indeed, joecot, Wow. What fun. Really, the politicians are silent? Wow.
Posted 10/15/2023 11:11 AM
Victoria:
Beautiful. How wonderful it would be if we could all live in this tomorrow.
Posted 10/15/2023 11:11 AM
joecot:
Wow. Thank you, Barbara.
Posted 10/15/2023 10:07 AM
NormaB:
Im a fan of Barbaras and especially of the sentiment expressed in this poem.
Posted 10/15/2023 08:32 AM
Angela Hoffman:
If only!!!!! Love this Barbara.
Posted 10/15/2023 08:17 AM
Larry Schug:
Ah, if only the past could become the future, at least in some ways. Soldiers could toss their weapons in the grass and we could pay attention to each other and the world around us. Perhaps it will begin with this poem.
Posted 10/15/2023 08:16 AM
Wilda Morris:
Love it! What a lovely dream.
Posted 10/15/2023 07:51 AM